I have a weird thing about the color of my food… If food isn't the "right" color, I just can't eat it. I have never been a fan of rainbow colored cupcakes or purple ketchup. I realize that they may taste exactly the same despite the food color, but I just can't get past the color.
So, I was slightly less than thrilled to get a giant bunch of Swiss chard with bright purple/pink stems in my CSA a few weeks ago. You see, the last time I had swiss chard, I wilted some of it into a perfectly delicious creamy pasta sauce thinking that it would be a healthy addition to the dish and a great way to use the chard. Much to my dismay, the pasta sauce turned pink. Creamy pasta sauce is not supposed to be pink! I forced myself to have a few bites, but it definitely ruined the dish for me.
I was debating what to do with the Swiss chard while Mardi of eat. live. travel. write. was here a few weeks ago, and she had a brilliant idea… She suggested using the swiss chard in a pesto. I knew I had to do something with the chard (I can't bear to waste CSA veggies), so I went with it. We also had a large bunch of basil from our CSA that needed to be used, so I added that to the pesto as well to balance out the flavor of the chard (which can be bitter at times).  The flavor was great – a bit milder than the garlic scape pesto I made a few weeks ago.
I made a fairly large batch so that we could enjoy some for dinner that night (with a tomato and mozzarella salad and focaccia bread) and freeze some for later. I look forward to enjoying it on pasta throughout the year!
Swiss Chard Pesto
2 tablespoons + 1/2 cup extra virgin olive oil
2 cloves garlic, chopped
1 bunch Swiss chard, stems removed (about 2 cups)
1 cup walnuts
2 ounces freshly grated pecorino cheese
1 bunch of basil leaves (about 1/2 cup packed)
Kosher salt
Heat two tablespoons of oil and the garlic in a saute pan over medium heat. Once the oil is hot and the garlic has become fragrant, gradually add the Swiss chard, wilting it into the oil and sauteeing for a few minutes.  Set aside to cool.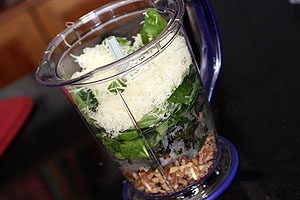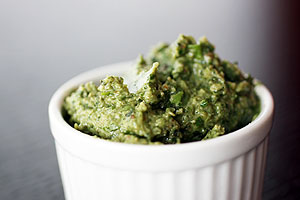 Meanwhile, combine the walnuts, pecorino cheese, and basil leaves in the bowl of a food processor.  Add in the cooled chard and garlic.  Pulse to roughly chop and combine the ingredients. Then, stream in the remaining 1/2 cup of olive oil while blending to your desired consistency.  Adjust seasoning with salt.
To freeze the pesto, fill an ice cube tray with leftover pesto and cover tightly with plastic wrap. Once the pesto cubes have frozen, they can be transferred to a ziplock bag and kept for a few months.