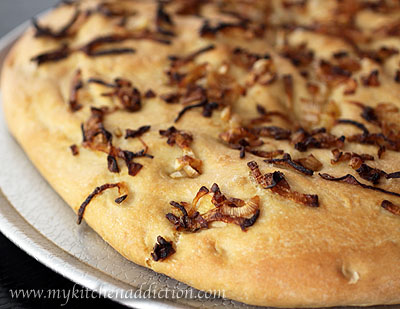 Since I will be wrapping up the Kitchen Bootcamp challenge on Friday, I thought I'd share another yeast bread recipe with you this week. It is a bit last minute, but I'm still trying to recover from a few busy weeks and rediscover what a "normal week" feels like!
This time around, I thought I'd share a quick and simple recipe for focaccia. I love to try new recipes, and I don't even mind when they're complicated, but I do have one problem… I always forget to start things the night before. Much to my dismay, one of my favorite focaccia recipes calls for a pre-ferment that must be started the night before. I planned to make it this week and share it with you, but despite my efforts (which even included a few post-it notes), I totally forgot to get it started ahead of time. Oops!
Instead I decided to try to come up with a new recipe based on what I've read in the book Ratio.  I know I've mentioned it before, but I have found that it's one of my most valuable kitchen resources since helps me to improvise.  After all, that's what I do best!
I know the overnight pre-ferment would have made an incredible focaccia, but we don't all have the time (or foresight) to get things started a whole day in advance. Let's be realistic! Instead, I came up with a simpler, done-in-an-afternoon focaccia recipe…. And (if I may say so myself), it tasted pretty darn good!
Don't forget that I'll be posting this month's Kitchen Bootcamp roundup on Friday so you still have plenty of time to submit your yeast bread recipe… Click here for the details!
Simple Focaccia Bread
(adapted from Ratio)
1 1/2 cups (12 ounces) warm water
1 teaspoon yeast
1/2 teaspoon sugar
2 cups (10 ounces) unbleached bread flour
1 teaspoon salt
1 tablespoon extra virgin olive oil + additional to drizzle on top
About 2 cups (about 10 ounces) white whole wheat flour
Caramelized onions (or other topping)
Combine the warm water, yeast, and sugar in a large mixing bowl.  Whisk until the yeast and sugar are dissolved.  Stir in the bread flour, salt, and olive oil with a wooden spoon, beating well to develop the gluten.
Gradually add the white whole wheat flour, stirring until the dough pulls away from the sides of the bowl. Knead the bread for about 5 minutes, adding just enough flour that the dough becomes smooth and no longer sticks to your hands. Shape the dough into a ball and transfer to a greased bowl and cover with plastic wrap (or a damp kitchen towel). Let the dough rise until it has doubled in volume (about 1 1/2 – 2 hours).
Preheat the oven to 450°F. Lightly grease a pizza pan or a sheet pan.
Once the dough has risen, punch it down and knead it a few times to release any air bubbles. Cover and let rise for another 15 minutes. Shape the dough into a disc and press onto the prepared pan.  Stipple the dough lightly with your fingers and drizzle with olive oil.  Top with caramelized onions or other toppings, pressing lightly into the surface of the dough.
Bake for 10 minutes, then reduce the temperature to 375°F for 15 minutes.  Allow to cool for about 10 – 15 minutes prior to slicing.