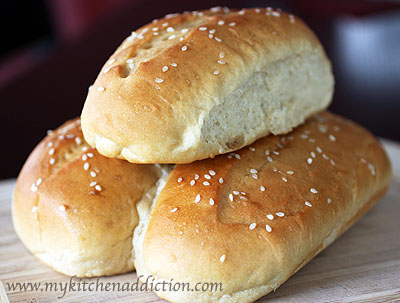 Now that we all have one Kitchen Bootcamp challenge under our belts, it's time to talk about the chapter for the June challenge.  I gave this one some serious thought, and I decided to take on something a bit different than the last challenge.  We'll come back to more sauces and stocks later, but this time around, I thought it would be fun to tackle Yeast Breads (chapter 35 in The Professional Chef).  I've been learning to bake bread for the past year, but I still have a lot to learn!
Don't bail on me quite yet… I know that homemade bread, particularly yeast bread, can be a bit intimidating, but I think it is worth the effort. Making your own bread is an excellent way to control the quality of the food your family eats. Just take a look at the ingredients on a loaf of white bread the next time you are in the grocery store. It's frightening!  Plus, I think there is something very satisfying about baking a loaf of homemade bread, and I think you'll agree.
Even if you're not in the mood for homemade bread, there are lots of great recipes in The Professional Chef for yeast doughs, including foccacia, pizza crust, and sticky buns! If you would rather use another source, feel free… I'm also a huge fan of the King Arthur Flour Whole Grain Baking Cookbook (which has helped me immensely when it comes to making whole wheat rolls and bread) and the King Arthur Flour blog: Baker's Banter. I bet you'll never guess what brand of flour I use!
Just a friendly reminder… Please don't copy a recipe word for word. Be sure to write it out in your own words and give credit where it's due!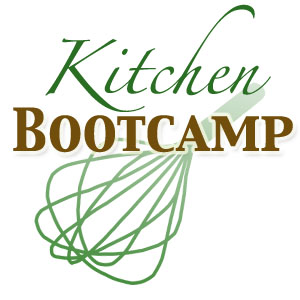 For all of the details and guidelines for the challenge, be sure to visit my Kitchen Bootcamp page.  I've also created a Facebook group to share ideas and ask recipe questions about the challenge… It's a great way to connect with everyone else who is participating!
Since we're getting started a few days late, I am going to extend this challenge into the beginning of July…  I'll be posting the roundup on Friday, July 9th (don't worry… I'll pick something easy in July so that we can all get back on schedule). I can't wait to see what everyone comes up with!
To kick things off, I thought I'd share a recipe for homemade steak rolls. I'd call them hot dog rolls, but I made them a bit large, and they resemble steak rolls or Italian rolls more than hot dog rolls. They are perfect for summer cookouts… We enjoyed these rolls with some grilled Italian sausages!
Homemade Steak Rolls
(Adapted from King Arthur Flour Whole Grain Baking Cookbook – Makes about 8 large steak rolls)
1 cup water
1/4 cup orange juice
1/4 cup canola oil
3 tablespoons honey
1/2 cup buttermilk
2 1/2 teaspoons yeast
1 1/2 teaspoons salt
1 1/2 cups bread flour
3 1/2 – 4 cups white whole wheat flour
1 egg
1 teaspoon water
Sesame seeds (optional)
In a large mixing bowl, whisk together the water, orange juice, canola oil, honey, buttermilk, yeast, and salt until the mixture is smooth. Use a wooden spoon to mix in the bread flour, beating to develop the gluten. Gradually add in the whole wheat flour, mixing with the spoon until the dough forms a ball and pulls away from the sides of the bowl.
Knead the dough by hand for about 5 minutes, adding just enough of the whole wheat flour to form a smooth and semi-soft dough that doesn't stick to your hands.  Shape the dough into a ball and transfer to a lightly greased bowl.  Cover with a damp kitchen towel, and let the dough rise until it has just about doubled in volume (about 1 1/2 – 2 hours).
Lightly grease a baking sheet, or cover with a silicon mat. Set aside.
Punch down the dough and divide it up into 8 equal portions.  Shape each roll by flattening the dough into a rectangle and then rolling it into a long, skinny roll.  Place the rolls on the prepared baking sheet and score lengthwise with a sharp knife.  Cover with the damp kitchen towel and allow the rolls to rise again for about 1 1/2 hours.
Towards the end of the second rise, preheat the oven to 350°F. Beat the egg with the teaspoon of water to create an egg wash.  Brush the tops of the rolls with the egg wash, and sprinkle with sesame seeds.  Bake for about 25 – 30 minutes.  Cool on the pan for 10 minutes and then transfer to a wire rack to cool completely.