Are you familiar with Works for Me Wednesday hosted by We Are THAT Family?  I've been lurking in the shadows reading everyone's great tips for a while, and I have finally (finally!) decided that it's time for me to join in.  I've shared a few tips on my blog in the past, but I'm making it my goal to share a new tip with you each week.
I thought I'd start things off with a tip for stocking your freezer… Sometimes I have late meetings or just don't have any energy to make dinner. It happens to all of us. I love to be able to pull something out of my freezer and just pop it in the oven for dinner. I'm not talking about a pre-packaged (full of junk) freezer dinner, though… I have learned to make extra when I'm preparing meals at home so that I have leftovers for the freezer.  Today I'm sharing with you my latest freezable food discovery… Calzones!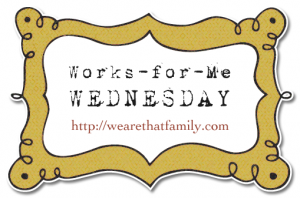 To freeze calzones, simply prepare and assemble them according to the recipe (you can try my recipe for chicken pesto calzones below).  Wrap them in plastic wrap (or double wrap, if you're a bit OCD like I am), then place the wrapped calzones in a freezer bag.  Label each bag with the calzone flavor and date and then pop them in the freezer.  When you're ready to serve them, just unwrap and let them thaw on a baking sheet before baking according to the recipe directions (you can also unwrap them and let them thaw gradually in the fridge).
Just about any calzone recipe would make a great freezer meal including these easy chicken pesto calzones.  I've been on a bit of a pesto kick lately… It's a great way to use all of the fresh greens and herbs from our garden and CSA.  You can use your favorite pesto or try one of my favorites (Swiss chard pesto or garlic scape pesto). Plus, the flavor of the pesto paired beautifully with the Provolone Stravecchio cheese I received from Sam's Club. Here's how they described the cheese…
This cheese has a traditional flavor of Auricchio Stravecchio, which is produced according to an ancient recipe which requires a slow aging period of over a year.
Of course, if you don't have the Provolone Stravecchio cheese, you could substitute your favorite provolone or mozzarella. Either way, you won't be disappointed with these calzones.  The recipe makes four calzones, so I baked two for lunch and popped the other two in the freezer for later!
Chicken Pesto Calzones
For the dough (adapted from The Pioneer Woman):
1 1/2 cups lukewarm water
1 teaspoon dry active yeast
1/2 teaspoon sugar
1/3 cup extra virgin olive oil
1 teaspoon salt
1 1/2 cups unbleached bread flour
2 1/2 cups white whole wheat flour
To finish the calzones:
1 cup pesto
3 cups cooked shredded chicken
4 ounces Provolone Stravecchio cheese, shredded
(or substitute any provolone or mozzarella)
Extra virgin olive oil (to drizzle on top)
Italian seasoning
To prepare the dough, combine the lukewarm water, yeast, and sugar in a mixing bowl.  Whisk until the yeast and sugar are dissolved in the water.  Add the olive oil, salt, and bread flour.  Stir until the mixture is smooth.  Gradually add the whole wheat flour, stirring with a wooden spoon until the dough starts to pull from the sides of the bowl. Turn the dough onto a lightly floured surface and continue to knead in the rest of the whole wheat flour (or just knead in the bowl, if you prefer) until the dough is smooth.  Transfer to a lightly oiled bowl, cover with plastic wrap, and allow the dough to rise for about 1 1/2 – 2 hours.
Once the dough has risen, preheat the oven to 475°F.  Lightly grease a baking sheet and set aside. Divide the dough into four portions and spread each portion of the dough into a rectangle/oval on a lightly floured surface.
In a mixing bowl, combine the shredded chicken and the pesto. Spoon 1/4 of the chicken pesto mixture onto half of each piece of dough. Top with the provolone cheese.  Fold the dough over the filling and pinch the edges to seal the calzone.
(At this point, you can wrap with plastic wrap and pop the calzones in the freezer).
Transfer each calzone to the baking sheet, brush the top with some olive oil and sprinkle with Italian seasoning.  Bake for about 12 – 14 minutes until golden on top and cooked through.  Enjoy!
My Kitchen Addiction Product Review Policy and Disclosure- I received this product (Provolone Stravecchio cheese) at no cost from the manufacturer (or a representative PR firm) for the purpose of testing and reviewing the product. Unless specified otherwise, I do not accept monetary compensation for reviewing or writing about products. I only review products that I have personally tested and used in my kitchen/home, and all opinions expressed are my own.