There's no need to check your calendar… Fasnacht Day isn't here quite yet.
I had planned to post these doughnuts on Tuesday for Fasnacht Day, but then I realized that you might actually want to make them for Fasnacht Day, so I decided to post them a bit early to give you the chance.
Growing up in Central Pennsylvania, I grew up eating "traditional" fasnachts each year on Shrove Tuesday… I haven't had them in years, but I remember them being dark yeasted doughnuts with just a bit of powdered sugar or honey. They were delicious, don't get me wrong (and I did eat my fair share over the years)… But, I much prefer my yeast doughnuts loaded with fillings and toppings. I don't eat doughnuts very often and I almost never make them…  When I do, I go all out.
I started with the recipe for basic raised doughnuts from Lara Ferroni's book Doughnuts. As I started getting everything together (around 10pm), I realized that I didn't have any bread flour on hand.  It was too late to run out to the store, so I decided to change things up a bit and use part whole wheat and part all purpose flour. I like making decadent treats with whole grains anyway, so it sounded like a fun challenge to me.  I also used a little less yeast since I planned to let them rise overnight.  I was pleased with how they turned out, and I'd definitely make them this way again!
Though I did have the originals in mind when I made these doughnuts last week, I decided to jazz things up a bit.  I made two kinds of doughnuts… Peanut butter filled doughnuts with chocolate ganache and lemon curd filled doughnuts.  That's how I roll.
If you prefer the plain versions, this recipe will still work… Just skip the fillings and sprinkle the fried doughnuts with just a bit of powdered sugar!
Yeasted Whole wheat Doughnuts
(Adapted from Doughnuts, makes 14 – 18 doughnuts)
1 cup warm milk (I used 2%)
2 tablespoons dry active yeast (I like Red Star)
3/4 cup all purpose flour
3 egg yolks
2 tablespoons granulated sugar
1 teaspoon vanilla extract
1/2 teaspoon salt
1 1/2 – 1 3/4 cups white whole wheat flour, divided
1/4 cup unsalted butter (softened) or shortening
Canola oil for frying
Filling (optional) – peanut butter filling (recipe follows) or lemon curd both work great!
Glaze or powdered sugar (optional)
Pour the warm milk into the mixing bowl of a stand mixer.  Add the yeast and whisk until dissolved.  Whisk in the all purpose flour until the mixture is smooth. Cover the bowl and let the mixture rest in a warm place for 30 minutes.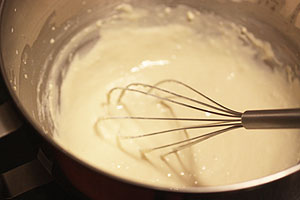 Add the egg yolks, sugar, vanilla, salt, and 1/2 cup of the whole wheat flour. Using the beater blade, beat on low speed until combined and smooth.  Add in the butter/shortening and continue to beat on low speed until fully incorporated.
Switch to the dough hook attachment, and gradually add the remaining flour while beating on low speed.  Add just enough flour for the dough to come together and pull away completely from the sides of the bowl.  It will still be somewhat sticky, and that's OK. Transfer the dough to a greased bowl, cover with plastic wrap, and refrigerate overnight (or at least 6 hours).
Once the dough has chilled and risen, turn it out onto a lightly floured surface.  Roll it out to about 1/2-inch thickness.  Use round cookie cutters or biscuit cutters (about 2 1/2 to 3 inches in diameter) to cut circles from the dough. Gather up the scraps, re-roll, and continue to cut out circles.  You can use a smaller cookie cutter to cut doughnut holes from the scraps if you like, as well.  Transfer the round doughnuts to a baking sheet and let them rise for about 15 minutes.
While the doughnuts rise, pour about two inches of oil into a large, deep pot.  Heat the oil to about 360°F to fry the doughnuts. (You'll need a deep fat thermometer to keep an eye on the temperature so the oil's not too hot or too cool… It'll also help you make sure the temperature doesn't drop too much as you fry the doughnuts).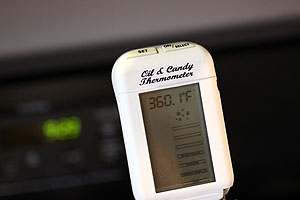 Meanwhile, line a baking sheet with paper towels and place a wire cooling rack on top of the baking sheet.
Once the oil comes up to temperature, carefully fry the doughnuts a few at a time, making sure there is plenty of room in the pot.  Fry for a minute or two on each side, until the doughnut is puffy and golden.  Use a slotted spoon to remove the doughnuts from the oil and then transfer them to the cooling rack to cool.
When the doughnuts are cool enough to handle, they can be filled with your filling of choice using a pastry bag and a large round pastry tip (ideally, a Bismarck tip that is designed for filling pastries). Be sure to let the doughnuts cool completely before glazing or dipping in chocolate.
Simple Peanut Butter Filling
(Fills approximately 12 doughnuts)
1/2 cup creamy peanut butter
1/4 cup half and half
About 1 1/2 cups powdered sugar
Beat together the peanut butter and half and half using a hand mixer.  Gradually add the powdered sugar until the mixture gets light and fluffy, but is still smooth and creamy.  If the filling gets too thick, simply add a few additional drops of half and half until the consistency is right. If the filling is too wet and does not get fluffy, add more powdered sugar, one tablespoon at a time.
Please Note – The links to Lara Ferroni's book Doughnuts provided in this post are Amazon affiliate links.