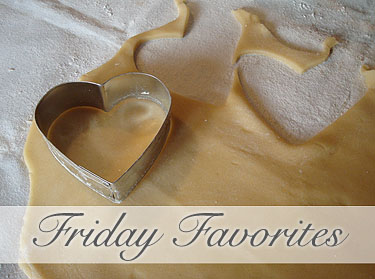 Friday has rolled around yet again! So, naturally, it's time for me to share my Friday Favorites…
Before we jump right into the blog posts, though, I want to introduce a few new features that I'll be including in each week's favorites post.  Instead of just my favorite blog posts, I thought I'd start talking about all of my favorite things from the past week in my kitchen…
The Posts… As always, I'll be sharing my favorite blog posts from all of the blogs that I read.
The Playlist… Find out what song I've added to my kitchen playlist this week, and why!
The Pantry… You already know what I've blogged about this week, but what else have I been cooking with in my kitchen? I'll share my favorite ingredient of the week along with a few recipe ideas.
Now that we're all on the same page… Let's get right to it, shall we?
The Posts…
The Playlist…
This week, we've had some really dreary weather. Dark, rainy days usually put me in the mood for mellower music. For me, mellow music usually translates into someone playing the acoustic guitar. I'm especially fond of the acoustic guitar since that's my instrument of choice these days (did you know that I play the guitar and the piano?).
So, this week, I've been listening to my share of John Mayer (and apparently I rhyme, too).  One of my favorites is his rendition of Free Fallin'… It's the perfect soundtrack for a rainy day of baking.
The Pantry…
This week I've been all about peanut butter… From my peanut butter filled doughnuts to some peanut vinaigrette for salads (to make up for eating all of those doughnuts), I've gone through my share of peanut butter. Here are a few more great recipes using peanut butter…
So, tell me… Do you have a favorite song from the past week? Or, perhaps an ingredient that you just can't get enough of right now?