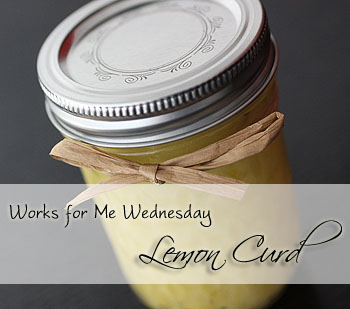 This time of year, I tend to get in a bit of a winter food rut.  I do love the comforting casseroles, soups, and stews, but after a while, I hit my limit.
I can always tell when I'm starting to get antsy for spring and summer foods because I start to crave summery fruits and veggies.  Sure, I freeze and can during the summer so that we have local, healthy food all year round, but strawberry jam and frozen green beans just aren't the same as the fresh, real thing. So, this time of year, I usually start to give in a bit and pick up a package of organic strawberries that traveled halfway across the world to make it to my grocery store. I try not to do it too often, but sometimes you have to do what you have to do.
This year, along with my berry cravings, I've also been in the mood for citrus.  Few fruits are as bright and cheery as lemons, so I picked up a big bag of lemons.  I've been adding lemon slices to my beverages and adding a spritz of summery flavor to all sorts of dishes.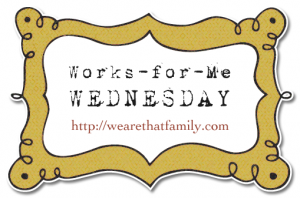 Despite my efforts to make my way through the enormous bag of lemons that I purchased, I still had quite a few left over after about a week. I couldn't bear to let them go to waste. So, naturally, I made lemon curd.
I thought I'd share my simple and easy recipe for lemon curd for this week's Works for Me Wednesday post because it's great for getting rid of the winter blues.  It's fantastic on desserts (cakes, muffins, tarts, even cheesecake) and takes breakfast up a notch when you slather a bit on a slice of toast or a biscuit.
Lemon Curd
(Makes about 2 cups)
3 – 4 lemons (enough to yield 1/2 cup juice)
1 cup granulated sugar
4 egg yolks
1/2 cup (1 stick) unsalted butter, cut into 6 pieces
Begin by zesting and juicing the lemons.  A strainer works well to make sure you don't have pulp and seeds in your lemon juice. You will need 1/2 cup of juice.
Bring a pot of water to a boil and then reduce to a simmer.  In a mixing bowl that fits on top of the pot (without falling in or touching the water), whisk together the lemon juice, zest, sugar, and egg yolks. Place the mixing bowl over the pot of simmering water, and continue to whisk until the mixture thickens and coats the back of a wooden spoon (about 10 minutes).
Remove the mixing bowl from the heat.  Gradually whisk in the butter, one piece at a time, until it has all been incorporated into the lemon curd. Transfer to a clean bowl or jar.  Press a piece of plastic wrap down against the surface and refrigerate.  The lemon curd will keep for about a week in the fridge.