Ever since I saw the episode of Jamie Oliver's Food Revolution where the elementary students could not identify basic fruits and vegetables (like a tomato!), I just can't get it out of my head. This week, I was outside checking on the pumpkins growing in my backyard, I started to wonder how many children really know how pumpkin pie is made.  Do they think that the pie fairy leaves the pies at a local bakery? Or perhaps that pumpkin pie comes from a frozen crust and a can of premade pie filling? The idea that children have no idea what they are eating makes me cringe, even if I don't have kids of my own!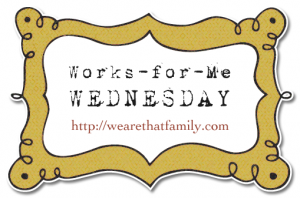 So, for this week's Works for Me Wednesday post, I thought I'd share a quick tutorial on how to make pumpkin puree… From a pumpkin (as it should be)! It's really quite simple.
Earlier this week, I picked our first two pumpkins from the garden… It was a moment I had been looking forward to for months, since I planted the seeds at the beginning of the summer.  There's just something very satisfying about cooking and baking with ingredients from my garden!
Even if you don't have a garden where you've been growing pumpkins all summer long, I definitely think it is worthwhile to try making your own pumpkin puree at least once (though it may not be practical for you on a regular basis).  Save one of those pumpkins from your annual pumpkin picking trip and consider making some of your favorite pumpkin goodies with your own pumpkin puree.  The flavor is amazing (much better than canned!), and you can be confident that your children will know exactly where their pumpkin pie comes from!
Pumpkin Puree
(Yield depends on the size of the pumpkins. My 2 pie pumpkins yielded approximately 5 cups.)
Preheat the oven to 375°F. Line a baking sheet with aluminum foil and set aside.
Begin by slicing the top of the pumpkin off, right below the stem.  Then, cut the pumpkin in half, cutting from top to bottom. Use a spoon (or your hands… that's what I typically end up doing) to scoop the seeds and pulp out from the inside of the pumpkin. Don't throw the seeds away… You can roast them (I'll post a recipe soon!).  Once you've removed the seeds and pulp, cut each half of the pumpkin in half again so that the pumpkin is cut into quarters.
Transfer the pieces of pumpkin to the baking sheet, cut side down.  Bake until the pumpkin is fork tender (for about 45 – 60 minutes). Allow the pumpkin to cool for about 10 – 15 minutes, until it is cool enough to handle. Then, use a spoon to scoop the flesh of the pumpkin out of the skin.
Transfer the flesh of the pumpkin to a food processor and puree.  Refrigerate for about a week or freeze for up to 6 months.  Use in any recipe where you would use canned pumpkin puree!