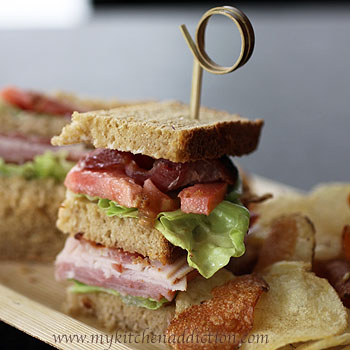 Since I chose sandwiches for this month's Kitchen Bootcamp challenge (against my better judgment, perhaps), I have been forcing myself to attempt some new sandwich recipes, even though I'm not much of a sandwich person. So, as promised, today I am sharing my second sandwich recipe.
One of the sandwiches that I love, but rarely make at home, is the club sandwich.  Whenever my husband and I go to the local diner or sandwich shop, I always order a club sandwich.  It's not really a fancy sandwich – no crazy gourmet ingredients or unusual flavor pairings, just meat, lettuce, tomato, bacon, and mayonnaise. In some ways, I think it's the simplicity of the club sandwich that I really like.  The classic ingredients really stand out and don't have to compete with the other flavors in the sandwich.
The thing about the club sandwich (and probably the reason that I don't make them very often at home) is that it requires a bit of careful assembly.  You can get away with less-than-perfect shaped ingredients when you are dealing with only two pieces of bread… But, when we are talking about three pieces of bread in a double-decker sandwich, flat and even sandwich makings are key. So, it's best to prep everything in advance.  Get out all of your other ingredients while you toast up the bread and crisp up the bacon.  Having everything arranged and easily accessible will make assembly much easier!
Don't forget that this week is the final week to submit your sandwich posts for the Kitchen Bootcamp challenge.  I'll be posting the roundup on Friday, so be sure to submit your post by the end of the day on Thursday!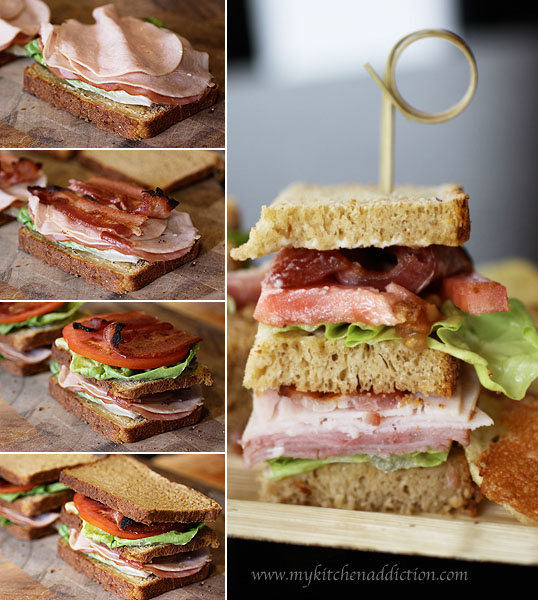 Ham and Turkey Club Sandwich
(Makes two sandwiches)
6 slices whole wheat bread, toasted
Mayonnaise
4 slices ham
4 slices turkey
4 pieces lettuce (bibb lettuce is my favorite)
2 slices of tomato
4 slices of bacon, crisped
8 Toothpicks
Begin by spreading mayonnaise on two slices of toast for the base of the sandwich.  Top each slice of bread with a piece of lettuce, two slices of ham, and two slices of turkey, keeping them nice and flat on the bread. Break two of the pieces of bacon in half and lay the bacon pieces on top of the lunchmeat.
Spread mayonnaise on both sides of two more slices of bread – this will be the middle of the sandwich.  Lay the slices of bread on the sandwiches and top with the remaining lettuce.  Add a slice of tomato to the top of each sandwich.  Again, break the remaining bacon in half and lay the bacon pieces on top of the tomato.
Finally, spread mayonnaise on the under side of the remaining pieces of bread and place them on top of each sandwich stack. Use the toothpicks to secure each corner of the sandwich and then cut the sandwich into quarters and serve.
My Kitchen Addiction Product Review Policy and Disclosure- I received the bamboo tableware featured in my photographs at no cost from restaurantware.com for the purpose of testing and photographing. Unless specified otherwise, I do not accept monetary compensation for reviewing or writing about products. I only review products that I have personally tested and used in my kitchen/home, and all opinions expressed are my own.