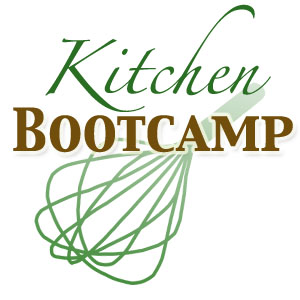 Now that the Yeast Breads challenge is over (you can see all of the great posts here), it's time to talk about the next Kitchen Bootcamp challenge! I know we've gotten a bit behind due to the holidays in the last two months. This month, I'd like to try to get back on track… So, I have chosen a a chapter that will (hopefully) be a bit less time consuming so that there's still plenty of time for everyone to participate.
This month's challenge will be based on Chapter 30 of The Professional Chef – Salad Dressings and Salads… It seemed like the perfect chapter for a summer challenge since there is a plethora of fresh fruits and veggies available at the farmers' markets right now. I know that I get sick of the same old thing when it comes to salads, so my goal with this challenge is to develop some salads and dressings that incorporate new flavor profiles that I am not as familiar with.
The Salad Dressings and Salads chapter is packed with information, including recipes/tutorials for vinaigrettes and mayonnaise as well as an intro to both green salads and fruit salads. Don't forget to page to the back of the chapter because it's also loaded with lots of new recipes to try. I have no excuse not to try a few things because there is no lack of inspiration in this chapter!
Details for this month's challenge…
To participate in this month's challenge, all you have to do is write a post about a salad dressing or salad recipe… Your only limit is your imagination! As always, I will be using The Professional Chef as a guide and resource for the challenge, but you are welcome to use whatever you have available.
To be included in the roundup at the end of the month, please be sure to submit your post to me by the end of the day on Friday, July 30th.  I will feature all of the submitted posts in a roundup here on my site on Saturday, July 31st.