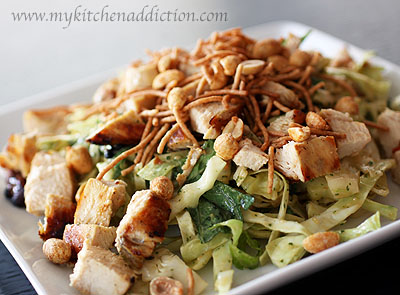 My hubby and I often go out for lunch on Sunday when we're on our way home from church.  Last week we both ended up ordering salads… He ordered a mandarin chicken salad and I had a sesame "chop chop" chicken salad. We both really enjoyed the salads, so I thought it would be fun to try an Asian-inspired dressing as a part of this month's Kitchen Bootcamp challenge!
Growing up in Central PA hasn't really given me a great background in Asian cooking and flavors… It's just not something I'm real familiar with, and I've always been a bit intimidated.  So, I decided to take a bit of help from The Professional Chef on this one.  I found a recipe for peanut dressing in the book and scaled it down (quite a bit, the original recipe made 32 ounces of dressing!) and made a few small substitutions with what I had on hand.
Because dressing alone does not a dinner make, I decided to throw together a quick salad with my peanut dressing…  I chopped up some romaine lettuce and cabbage, and I tossed it with the dressing. Then, topped with grilled chicken, rice noodles, and peanuts, it was the perfect salad. I loved the crunchy texture and the slightly sweet and tangy flavor of the dressing. Next time I will probably add a few extra veggies (snow peas and red peppers would be great, but I didn't have any on hand)… And there will be a next time!
Peanut Dressing
(Adapted from The Professional Chef)
2 tablespoons peanut oil
2-3 cloves garlic, minced
2 teaspoons fresh ginger, minced
1 tablespoon brown sugar
2 tablespoons smooth peanut butter
3 tablespoons rice vinegar
1/4 teaspoon Thai chili paste
1 teaspoon dark sesame oil
Dash tamari (or soy sauce)
1-2 teaspoons garlic chives
1 tablespoon fresh cilantro leaves
Peanut oil (to consistency, about 1/4 – 1/2 cup)
Heat the peanut oil in a skillet over medium-low heat.  Add the garlic and ginger and saute until soft and fragrant. Remove from the heat and allow to cool.
Meanwhile, combine the brown sugar, peanut butter, rice vinegar, chili paste, sesame oil, tamari, garlic chives, and cilantro in a food processor. Top with the cooled garlic and ginger and oil. Pulse until the mixture is blended. Gradually add additional peanut oil until the dressing is a creamy consistency.
To assemble the salad, toss the dressing with chopped cabbage and lettuce.  Top with grilled chicken, peanuts, and rice noodles. Enjoy!