This is a sponsored post written by me on behalf of Red Star Yeast.  As always, all opinions expressed are entirely my own.
Ahhh, fall…. It's my favorite time of year! I could wax philosphical about pumpkins, changing leaves, and crisp air. But, one of the things I love most about the fall is that it's baking season again! Sure, I still do some baking during the summer, but there's nothing quite like preheating the oven on a chilly fall morning.
When I think of fall baking, the first thing that comes to mind is pumpkin. Pumpkin bread is one of my all-time favorites. I make a giant batch of pumpkin puree as soon as I find pumpkins at the farmers market. After that, pumpkin bread shows upon the menu at our house every week or so.
Most typical pumpkin breads are quick breads (i.e. not made with yeast), but in the last few years, I have fallen in love with pumpkin yeast breads.  The Pumpkin Pull-Apart Pan Rolls I shared two years ago have become one of my favorites. So, when I was perusing the recipes on the Red Star Yeast website, their Spiced Pumpkin Bread caught my eye. I loved the idea of a not-too-sweet pumpkin yeast bread!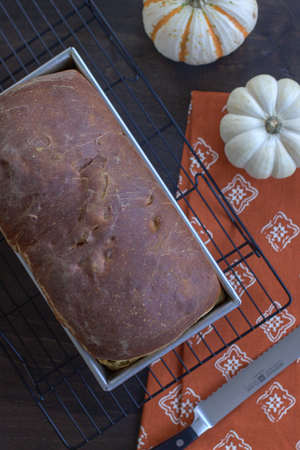 Let me tell you, the bread did not disappoint! Everyone in the family loved it… Including Maddie! She happily munched on a slice of bread that I cut into small pieces for her (Don't worry, I did pick out the nuts, too…). I had the bread as an afternoon snack and with dinner, spread with just a bit of butter. My favorite way to eat the bread, though, was for breakfast, toasted and topped with some homemade apple butter. (Maddie approved of the apple butter, too!)
Nervous about baking with yeast? Don't be! A few years ago, I shared a few of my favorite tips for baking homemade yeast bread. You can read all about my favorite equipment (and, I use that term very loosely… it's not a big investment!), the basics of yeast and how to bake without making a mess. And, of course, be sure to check out the Red Star Yeast Baking Steps Guide… You'll find great information for every step of the bread baking process!
Of course, I'm always here to answer your questions. But, I think you'll also find that the great people at Red Star Yeast are always happy to help, too. Be sure to connect with them out on Twitter and Facebook. You can also find a lot of great recipes on their Pinterest boards!
Now, go mix up some bread!
Spiced Pumpkin Yeast Bread
Makes one loaf
(Recipe from Red Star Yeast, used with permission)
3 cups bread flour, divided
2 1/4 teaspoons (one packet) Red Star Active Dry Yeast
1/4 cup brown sugar
2 teaspoons ground cinnamon
1 1/2 teaspoons salt
1/2 teaspoon ground nutmeg
1/2 teaspoon dried ginger
1/4 teaspoon ground cloves
3 tablespoons water
1 cup canned pumpkin
(Jen's Note – I actually used homemade puree and it worked well!)
3 tablespoons vegetable oil
(Jen's Note – I used extra virgin olive oil)
2 eggs
1/2 cup pecan halves
In a large mixing bowl, combine 1 cup of bread flour with yeast, brown sugar, and spices. In a separate microwave-proof bowl, combine pumpkin, water, and oil and heat to 120°-130°F.
Add the warm liquids to the large mixing bowl.  Beat the mixture with a paddle or beaters for 4 minutes on medium speed.  Add the eggs and beat for one additional minute. Gradually add the remaining bread flour and pecans, kneading with the dough hook (or by hand, if not using a stand mixer) for 5 to 7 minutes until smooth and elastic.
Place the dough in a lightly oiled bowl and turn to grease the top of the dough. Cover and let rise until the dough tests ripe.  Turn the dough out onto a lightly floured surface, punching down to remove any air bubbles.
Roll or pat the dough into a 14 by 7-inch rectangle.  Starting with the shorter side, roll the dough up tightly, pressing it into a roll.  Pinch the edges and ends to seal, and place the dough in a grease 9 by 5-inch loaf pan.  Cover, and let rise until indentation remains after touching lightly.
While the dough rises, preheat the oven to 375°F.
Once the dough has risen, bake for 30 – 40 minutes. Remove the bread from the pan and cool completely before slicing.
My Kitchen Addiction Disclosure – This post was sponsored by Red Star Yeast.  Though I have been compensated to write this post, all opinions expressed are my own.