Baking season is here!
I can think of very few better ways to spend a chilly fall afternoon than baking homemade bread. It warms up the kitchen and fills the house with a wonderful aroma.  Plus, your family will thank you when they sit down to dinner with warm, freshly baked bread on the table!
You may be one of those people who gets nervous just thinking about baking with yeast… But, stick with me here. It's not that tough!  In my Bread Baking Basics series a few months ago, I covered a variety of topics including the necessary equipment, types of yeast, and how to mix up a batch of bread without a big mess. It's a great place to start when it comes to conquering your fear of baking with yeast. However, as with most things, the best way to conquer any yeast baking fears is to just jump in there and give it a try!
So, I'm happy to announce that I am partnering with Red Star Yeast to bring you some great new recipes over the next few months. I'll be featuring seasonal recipes from the Red Star Yeast website that are certain to become new favorites. And, I'll be walking you through the recipes with photos of each step along the way!
Since October is the height of pumpkin season, we'll get started with some pumpkin pan rolls. There are plenty of sweet recipes out there for pumpkin – pies, cakes, muffins, and quick breads. I love them all, but I can only eat so many sweets! So, I was happy to give these not-too-sweet pumpkin rolls a try. 
The rolls are light and soft with a mild pumpkin flavor. They have just the right amount of spice.  You will love the sweet cinnamon aroma as you bake the rolls, but they are still pretty versatile. They are perfect with just a touch of butter as a dinner roll.  I also toasted one for breakfast and sprinkled it with cinnamon sugar for a slightly sweeter treat.  And, since I just couldn't get enough, I used the rolls to make miniature ham sandwiches with cranberry mustard.
If you're looking to kick start your fall baking, I really think these rolls are a great place to start…  The recipe is simple enough to make for a weeknight meal but elegant enough for Thanksgiving dinner.
Pumpkin Pull-Apart Pan Rolls
(Makes 15 rolls; from Red Star Yeast)
4 cups bread flour, divided
1 tablespoon active dry yeast
1/3 cup brown sugar
4 teaspoons of pumpkin pie spice
1 1/2 teaspoons salt
1 cup canned, mashed pumpkin
(or thickened homemade pumpkin puree)
1/4 cup vegetable oil
2 tablespoons water
2 eggs
1/4 cup (1/2 stick) unsalted butter, melted
In a large mixing bowl, combine 2 cups of bread flour, yeast, brown sugar, pumpkin pie spice, and salt. Whisk to combine.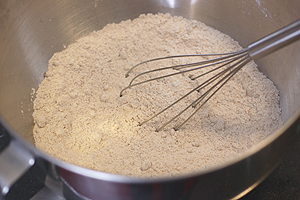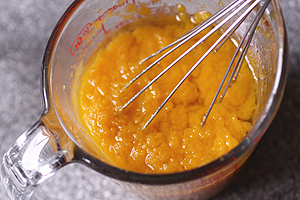 In a separate microwave-safe bowl, combine the pumpkin, oil, and water.  Heat on medium heat for about 1 minute, until the temperature is between 120°F and 130°F.
(Jen's Note – I find that my liquid measuring cup works perfectly for both measuring and mixing the wet ingredients. Plus, it's microwave safe!)
Add the pumpkin mixture to the dry ingredients and beat on medium speed for 2 minutes.  Add the eggs and beat for an additional 3 minutes.
By hand, stir in enough remaining bread flour to make a soft dough. The dough should pull apart from the sides of the bowl, but not be too stiff to stir by hand.
(Jen's Note – A dough whisk work's perfectly here… Refer to my post on baking equipment for all of the details!)
Knead the dough on floured surface for 5 to 7 minutes until smooth and elastic. Place in lightly greased bowl and then flip the dough to make sure both sides of the dough are lightly greased. Cover; let rise until the dough has almost doubled in volume and the imprint of two fingers pushed into the dough remains.
(Jen's Note – To minimize the mess, you can also try kneading the dough in the mixing bowl.)
Turn dough onto lightly floured surface; punch down to remove air bubbles. Divide dough into 3 parts, and then divide each third into 5 pieces. Shape each piece into a smooth ball.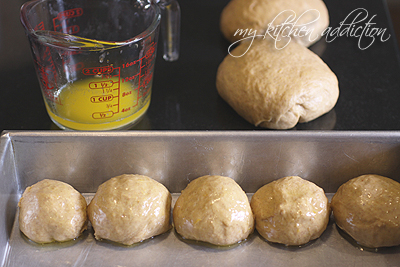 Dip tops in melted butter. Place in greased 13 x 9- inch pan. Cover; let rise until indentation remains after lightly touching side of a roll.
While the rolls are rising, preheat the oven for 375°F.
Bake for 20 to 25 minutes until golden brown. Remove rolls from pan. For soft sided rolls do not break apart. Cool on rack.
My Kitchen Addiction Disclosure – This post was sponsored by Red Star Yeast.  Though I have been compensated to write this post, all opinions expressed are my own.