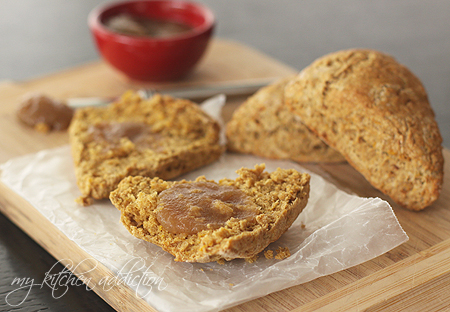 When I started the October Unprocessed challenge at the beginning of the month, my goal was to try to do less baking with white flours and refined sugars.  It's something that I would like to do less of in general (not just in October), so this seemed like a perfect time to start.  Don't get me wrong, I am not abandoning baking entirely… It's something that I absolutely love.  But, we don't need all of the sugary treats on a regular basis.  So, I'm trying to develop more "everyday" recipes that use less refined sugars and flours.
This time of year, I can't get enough pumpkin.  Unfortunately, most pumpkin recipes (even the whole wheat ones!) are extremely sweet.  I love pumpkin cupcakes and sweet pumpkin breads, and I know I could have swapped out the white sugar for some maple syrup or coconut sugar, but I think that making a super sweet recipe, even if it's unprocessed, is missing the point.  So, I opted to make some lightly sweetened pumpkin scones.  I've been thinking about pumpkin scones ever since I read Winnie's blog post about sugar, which is one I think you should check out! I didn't have all of the ingredients for her recipe on hand, so I worked on one of my own.
The scones are made with pumpkin and plenty of spices to give them a lovely fall flavor without being overly sweet.  They have just a bit of unrefined organic coconut palm sugar in them, and they are made with 100% whole wheat flour. For a bit more sweetness, they can be served with some apple butter (I have a recipe for an unprocessed version made with honey, if you're interested!). The combination of the pumpkin scones and apple butter is just perfect for fall… I think they make a great breakfast or afternoon snack!
Whole Wheat Pumpkin Scones (Unprocessed)
Makes 12 scones
2 cups white whole wheat flour
1/4 cup coconut palm sugar + additional for sprinkling
(be sure to use unrefined, 100% coconut palm sugar)
1 tablespoon baking powder
1 1/2 teaspoons ground cinnamon
1/2 teaspoon ground nutmeg
1/2 teaspoon salt
1/4 teaspoon ground cardamom
4 tablespoons (1/2 stick) cold unsalted butter
1/2 cup pumpkin puree
1/4 cup + 1 tablespoon milk, divided
1 egg
Preheat the oven to 400°F. Line a baking sheet with a silicone baking mat or parchment paper and set aside.
In a mixing bowl, whisk together the flour, 1/4 cup of coconut palm sugar, baking powder, cinnamon, nutmeg, salt, and cardamom.  Cut the butter into small chunks, and add it to the dry ingredients. Use a pastry blender (or your fingertips) to cut the butter into the flour mixture until it resembles the consistency of wet sand.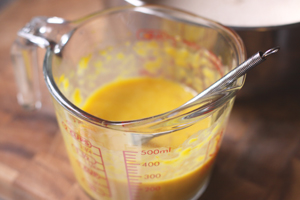 In a separate bowl or measuring cup, whisk together the pumpkin puree, 1/4 cup of milk, and egg until smooth.
Add the wet ingredients to the butter and flour mixture and use a spatula to gently toss them together until they are just mixed.  The mixture will still be a bit crumbly. Use your hands to gently knead the dough a few times until it comes together.
Transfer the dough to a lightly floured surface and divide in half.  Shape each half of dough into a disk approximately 3/4-inch thick.  Cut each disk into 6 wedges.  Transfer the scones to the prepared baking sheet.
Brush the scones with the remaining tablespoon of milk and sprinkle with some additional coconut palm sugar.  Bake the scones for about 15 minutes, then transfer to a wire rack to cool.