Love to give homemade gifts, but don't have time for a lot of last-minute baking? Well, that's where canning can come in really handy!
Over the past few years, I've started doing a lot of canning and preserving throughout the summer. One reason is that I love to save the best of each season to enjoy throughout the year. The other reason is that it helps me to build up a stock of gifts for the holidays (and any time of the year when I need a last-minute gift). While it may be a bit too late in the year to make fresh strawberry jam or to pickle garden fresh cucumbers, there are still plenty of things that you can make now for the holidays!
Apple butter is one of my favorite canned items to have on hand for gifts. I haven't met many people who don't love to slather some apple butter on a slice of toast. And, of course, apples are pretty easy to find this time of year.  But, the best part about apple butter is that it can be made in your slow cooker. There's no need to slave over a hot stove and wait patiently for the apple butter to thicken. Simply prepare it one evening, let it simmer overnight, and can it the next morning. Easy!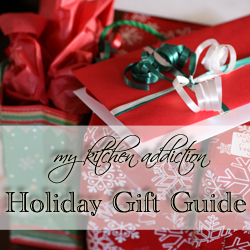 Apple butter is also pretty versatile and lends itself well to different spices and flavors.  Always start with a tried and true recipe (I love the basic apple butter in the Ball Complete Book of Home Preserving) that is safe for canning, and go from there. Many recipes will even suggest ways to change up the spices or reduce the sugar in the recipe. For this recipe, I used honey to sweeten the apple butter and added my favorite fall spices. I'll be giving some away, but I'm keeping a few jars for myself, too!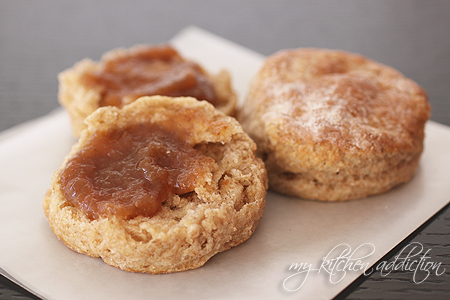 Spiced Honey Apple Butter
Yields about 6 or 7 half-pint jars
(Adapted from the Ball Complete Book of Home Preserving)
6 pounds apples
(Organic is best since they are cooked with the skin on)
2 cups apple cider
1 cup honey
2 teaspoons ground cinnamon
1 teaspoon ground ginger
1/2 teaspoon ground cardamom
1/2 teaspoon ground cloves
1/2 teaspoon ground nutmeg
Cut the cores out of the apples and cut them into large chunks (leaving the skin on). Combine the chopped apples and the apple cider in a large pot and bring to a boil.  Reduce to a simmer, and cook until the apples are soft, approximately 20 minutes.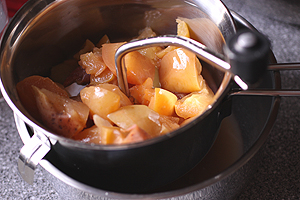 Pass the cooked apples through a food mill to puree and remove the skins. Measure out 10 cups of the apple puree and transfer it to a slow cooker. Stir in the honey and spices. Cook on low for about 8 hours, or overnight (with the lid slightly elevated to allow some steam to escape). The apple butter should thicken and hold it's shape on a spoon.
While the apple butter is still hot, sterilize your jars, lids, and bands and prepare a boiling water canner. Carefully ladle the apple butter into the prepared jars leaving 1/4-inch of headspace in each jar. Wipe the rims of the jars and fit with lids and bands. Process in boiling water for 10 minutes. Then, remove the canner lid and let the jars sit in the hot water for 5 minutes before removing and cooling the jars.
Please Note – The links to the Ball Complete Book of Home Preserving provided in this post are Amazon affiliate links.