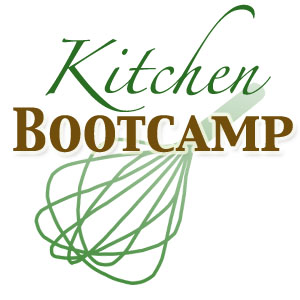 May is here… Can you believe it? The last few months have just flown by, and I'm having a hard time wrapping my head around the fact that it's May already.
Of course, the fact that May is here means that it's time to announce a new Kitchen Bootcamp challenge… And, it also means that it's time to introduce the new Kitchen Bootcamp book – The New Best Recipe (from the editors of Cook's Illustrated magazine)!
The New Best Recipe is a great resource for recipe development, and I think it will be a good guide for the monthly challenges. The format is quite different from The Professional Chef, but I think you'll find that it's a nice change. Along with very well tested recipes for many popular dishes, the book is full of insights that will not only help you to prepare the recipes in the book but expand your horizons to adapt and develop new recipes. With each recipe, there is a history of the various versions of the recipe that were tested in the process of finding the best recipe. By finding out what worked and what didn't, you'll learn to understand how the various ingredients interact in a dish, which is key for improving your skills in the kitchen!
For the first challenge, I thought we'd tackle some baking… Cookies, Brownies, and Bar Cookies (Chapter 18)! It's been a while since we did any baking for the Kitchen Bootcamp challenges, and I thought it would be fun.  After all, picnic season is right around the corner, and cookies (and brownies or bar cookies) are great for potlucks and get togethers!
As always, you do not have to use The New Best Recipe for the challenge.  Feel free to use whatever resources you have on hand! Just be sure that the recipe you feature fits the theme for the month (cookies, brownies, or bar cookies).  Also, please avoid copying recipes directly from any source without permission.  It is best to adapt recipes and always rewrite them in your own words.  And, of course, be sure to cite all sources that you use in the process of writing your post!
If you're new to the challenge and would like more information, be sure to check out my Kitchen Bootcamp page.  You can also find more information and chat about the challenge with other participants over at the Kitchen Bootcamp Facebook page!
I will be posting the roundup of blog posts on Thursday, May 31st.  In order to have a blog post included in the roundup, please be sure to submit it by Wednesday, May 30th. You can submit your blog post on my site, along with a photo to be included in the roundup blog post.  I will not grab any photos directly from your site, so please be sure to submit a photo if you would like one to be included.
Please Note – The links to The New Best Recipe provided in this post are Amazon affiliate links.