Thanksgiving is just a few short weeks away… 2 weeks and 1 day to be exact, but don't panic. It will be OK!
As I mentioned last Friday, I'm hosting Thanksgiving this year. So, I've had Thanksgiving on the brain for a few weeks already! If you read my blog regularly, you know that I try to cook and bake from scratch, with fresh, local, and organic ingredients as much as possible. And, Thanksgiving is no exception.
But, when you're trying to feed a large group of people and make a variety of dishes, it can start to feel a bit daunting to make everything from scratch. So, I've been working ahead.
Last week, I ordered a turkey from a local farm, and I started working on the menu. I also started tackling a few of the things that I can make ahead of time. It may seem a bit early to be working ahead, but there are things you can do now. Need stock for your gravy? Pick up some turkey wings and make a quick turkey stock in your slow cooker and stash it in the freezer. You can also make and freeze dinner rolls ahead of time. Feel your blood pressure coming down now? That's good.
The other thing you can get started on now is cranberry sauce. In the past, I have made fresh cranberry relish. It's tasty, but there are members of my family (my hubby included) who prefer the stuff from a can. You know the stuff… It makes that slurpy sound when it flops out of the can into a pretty bowl that everyone uses to try to dress up the fact that it's slurpy sauce from a can. In the past I have caved and had the slurpy sauce, but not this year. I don't buy canned stuff, and don't really want it on my table for Thanksgiving.
This year, my hubby and I agreed that we could compromise. While he's not a fan of the relish, he thought that a chunky homemade cranberry sauce sounded pretty good. It sounded good to me, too… Especially because I could make it well ahead of time and can it so that it would be as easy as the slurpy stuff on the big day. But, of course, it tastes so much better and isn't loaded with other preservatives and junk. If that's not winning, I don't know what is.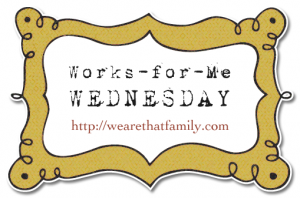 Don't be frightened by the canning in this recipe. It's really quite easy. And, if you're really not into canning, you can make this ahead of time and just store it in the fridge. You just might want to halve the recipe unless you have a lot of room in your fridge!
Homemade Cranberry Sauce
(Makes about eight half-pint jars, from the Ball Complete Book of Home Preserving)
4 cups granulated sugar
4 cups water
8 cups fresh cranberries
(or thawed frozen cranberries)
Zest from one orange
(opt for organic, if possible, since you are using the zest)
Prepare your boiling water canner and sterilize your jars, lids, and bands, leaving the jars in the hot (but not  boiling) water until ready to fill.
Combine the sugar and water in a large heavy bottom pot. Bring to a boil over high heat, stirring occasionally to dissolve all of the sugar. Continue to boil for about 5 minutes.
Add the cranberries and return the mixture to a boil. Reduce the heat to medium and continue to boil gently for an additional 20 – 30 minutes. The sauce will reduce and should be thick. Remove from the heat and stir in the orange zest.
Ladle the sauce into the prepared jars, leaving 1/4-inch of headspace in each jar. Wipe the rims and fit the jars with lids and bands. Process in boiling water for 15 minutes, then let the jars rest in the canner (with the lid off) for an additional 5 minutes.
First time canning? Be sure to check out these guidelines for boiling water canning!  I have done my best to ensure that this recipe is safe for canning, and  I used a reputable source.  However, it is always important to double check the guidelines to make sure a recipe is safe for canning.
Please Note – The links to the Ball Complete Book of Home Preserving provided in this post are Amazon affiliate links.