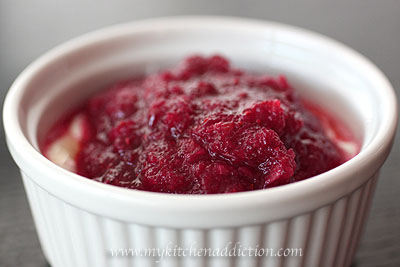 You're probably thinking that I've lost it… "What is she doing posting cranberry relish in February?!"
Well, I'm posting my cranberry relish recipe because it's a part of one of my favorite #10in10 breakfasts.  You see, when I started the #10in10 challenge a few weeks ago, I still had some cranberry relish hanging out in my fridge from the holidays. To get away from my usual carb-heavy breakfasts, I have been trying to eat more yogurt (I prefer greek yogurt).  I don't really like plain yogurt, though, so I usually doctor mine up with a bit of this cranberry relish and a drizzle of agave syrup. It's one of my new favorites, and it's packed with vitamin C and other good stuff!
I posted a picture of my yogurt and cranberry relish breakfast a few weeks back as a part of my Project 365 pictures on Flickr. I had a few comments and questions about the cranberry relish recipe, so I decided to share it all with you here.  I can't really take the credit for this recipe. It's similar to the one that you'll find on most bags of cranberries.  When I made it over the holidays, I followed this recipe from the last issue of Gourmet.  This time around, I halved the recipe, changed the spices, and added less sugar. It's a great way to use the cranberries you have stockpiled in your freezer (Ok, maybe that's just me…).  Best part is, you don't even have to thaw the cranberries first… Just give them a quick rinse!
Quick Cranberry Relish
12 ounce bag of cranberries, rinsed
1 orange, peeled and cut into chunks
1 apple, cored and cut into chunks (I left on the skin – it's good for you!)
1/2 teaspoon chai spice mix (or you could use cinnamon)
1/4 cup sugar (or less, to taste)
Combine the cranberries, orange, and apple in a food processor, and pulse until finely chopped.  Add the chai spice mix and sugar to your taste.  Cover and refrigerate overnight prior to serving.