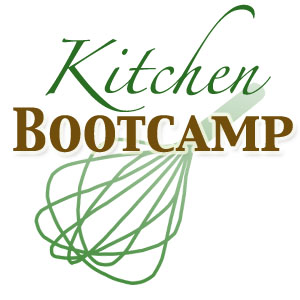 Kitchen Bootcamp is back by popular demand… Are you excited? I know I am!
After taking a much needed (for me, at least!) break over the summer, it's time to crack open The Professional Chef and get back in the kitchen. For me, this past summer was considerably crazier than most. Fortunately, along with the crisp air and chilly nights, fall has also brought me renewed energy and inspiration. I appreciate everyone bearing with me over the past few months… And, I hope you'll still join me on my journey to kick it up a notch in the kitchen!
Earlier this afternoon, I sat down on the couch with my copy of The Professional Chef to pick this month's challenge, and one chapter in particular jumped right out at me – Cooking Pasta and Dumplings (Chapter 28). After referring to the list of previous challenges, I was astonished to see that I hadn't actually tackled the pasta chapter in the past.  After all, pasta is a blank canvas and a staple in my house (and a favorite of my hubby!). I just couldn't pass it up again this month… I knew the challenge was meant to be.
The pasta and dumplings chapter is more than just recipes for spaghetti and meatballs (though, there is absolutely nothing wrong with spaghetti and meatballs!)… You'll find everything from tutorials on making fresh, homemade pasta to recipes for spätzle and dim sum. So, even if you think you have mastered the art of cooking pasta, I'm sure you'll find something new to try. Or, perhaps you'll perfect your favorite recipe for spaghetti and meatballs! That's the beauty of Kitchen Bootcamp… You can tailor the challenge to your tastes, abilities, and interests.
As always, I will be referencing The Professional Chef for this month's challenge.  I find it to be a fantastic resource for both techniques (with great step-by-step tutorials and information) and recipes. However, I encourage you to use whatever resources you have available to you. There's no need to go out and buy new cookbooks or equipment (unless, of course, you want to!)… Work with what you have!
It's been a while… Need a refresher on how to participate in the challenge? Be sure to refer to the Kitchen Bootcamp page for all of the details!  I'd also encourage you to join the Kitchen Bootcamp Group on Facebook… It's a great way to collaborate and share your recipe ideas and tips with others participating in the challenge!
I will be posting the roundup of all of your fabulous pasta and dumpling posts on Tuesday, November 1st.  So, to be sure that your post is included, please submit it to me no later than Monday, October 31st.
Also, please remember that, if you would like a photo to be included in the roundup, you must submit it along with your blog post. I won't steal photos from your site (it's just wrong!), so please be sure to submit them yourself!
Happy cooking!
Please Note – The links to The Professional Chef provided in this post are Amazon affiliate links.