Last weekend, my husband and I watched the movie Fat, Sick, and Nearly Dead.  How's that for a Monday morning blog post intro? It's relevant, though… I promise!
You see, we have a few friends who have done the whole "juicing" diet thing. Some have had good results, others have ended up not feeling so good. But, everyone I know who has tried it cited the movie as the inspiration that got them started. So, as someone who is generally interested in food, health, and nutrition, I figured that I had to see it. I wanted to know what it was all about.  And, I have to admit that I was pretty skeptical.
After watching it, I totally understand how people get sucked in.  It's one of those feel good movies where you see this great story of someone who loses tons of weight and changes his whole life fasting (yup… no food!) and drinking nothing but juice from fresh fruits and veggies.  I almost wanted to run out, buy a juicer, and lose a few pounds… Almost.
The more I thought about it, though, the more I realized that it wasn't for me. Sure, I understand that for someone who ate a lot of pizza, burgers, and fries on a regular basis, a cleansing juice fast may be a good way to change your habits. But, I started to wonder if the juice works on more of a mental level than a physical level. Is drinking juice really better than just eating lots of raw fruits and veggies? Or is it just a good way to change your habits cold turkey (Hmm… that phrase really doesn't work in this situation!). In the movie, the argument is that in order to get all of the nutrients you need, you'd have to eat a crazy amount of fruits and veggies. So, by turning all of that produce into juice, it's a much more manageable portion size.
But, by juicing the produce, you're losing all of the healthy fiber in the fruits and vegetables. And, some people seem to think that the juice causes higher spikes in blood sugar because the liquids are digested differently than the fruits and vegetables would be in their whole state. I am certainly not an expert, and I haven't studied this a lot, but I just keep going back to the fact that juicing isn't the way that fruits and vegetables were intended to be eaten.
I want to know…
I have to say that I still haven't ruled the juicer out entirely… But, I also can't imagine going for a week on nothing but juice. So, I'd love to hear your thoughts. Have you seen the movie? If so, what do you think? Do you think that juicing is a healthy way to get your diet in check and develop healthier habits?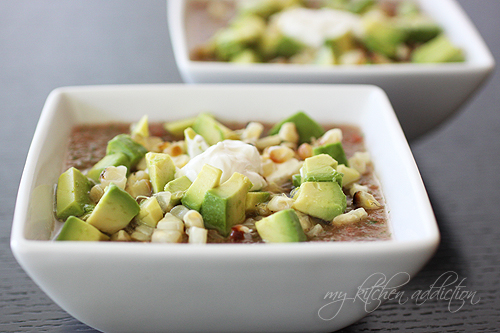 While I am deliberating on the whole juicing concept, I can tell you that watching the movie has made me want to eat a lot more raw fruits and vegetables. And, the summertime is the best time of year to rejuvenate our eating habits. (I really don't want to say diet… I really try to live a healthy lifestyle and enjoy all things in moderation!) So, instead of sharing a great juice recipe with you and my solution for fast weight loss, I am going to share a recipe for gazpacho. It's made with fresh produce from our garden and CSA.  It's not completely raw because I topped it with some steamed corn.  I also threw in some sour cream. All things in moderation, right?
Gazpacho
(Makes about 4 servings)
3 cups quartered roma tomatoes
1 cucumber, seeds scooped out and roughy chopped
1 medium yellow onion, roughly chopped (about 1 cup)
1 jalapeño, seeded and roughly chopped
Handful fresh cilantro
1 lime
Kosher salt
Freshly ground black pepper
1/4 cup sour cream (optional)
1 cup steamed corn kernels (optional)
1 avocado, diced (optional)
Combine the tomatoes, cucumber, onion, jalapeño, and cilantro in a food processor or blender. Squeeze the juice from the lime down over the vegetables. Blend the mixture until it is smooth and all of the vegetables are pureed.  Season to taste with salt and pepper.
Chill if desired.  Divide the soup among four bowls, and serve each serving topped with 1 tablespoon sour cream, 1/4 cup corn kernels, and 1/4 of the avocado.