Sometimes you just need to bake a pie.
That's what I tweeted last week when I was baking this peach pie. And, yes, I am going from talking about juicing and eating raw veggies (see this post about gazpacho if you're not sure what I'm talking about) to talking about the therapeutic value of baking a pie. But, for me, both are equally important… All things in moderation.
Last week wasn't a particularly good week at my house. It was busy, there was quite a bit of stress, and there were a lot of things that I was dealing with that were completely out of my control.  There were a few times where I felt as though I was on the brink of losing it completely. I'm not complaining (though, it may sound that way). I am just giving perspective.
What kept me from going over the edge was baking a peach pie. It was relaxing and stress relieving.  Even if it was just for a few minutes, I stopped worrying about everything else and just enjoyed the feel of the butter and flour between my fingers. I rolled out the pie dough and carefully wove strips of dough into a lattice crust. It was something I could control.
And, I am a control freak. I like things that I can control. Pie is one of those things.
Honey Cinnamon Peach Pie
(Makes one 9-inch pie, serves 8)
Dough for a Double Pie Crust
6 cups peeled and chopped peaches
1/3 cup honey
1/4 cup quick cooking tapioca
1 teaspoon ceylon cinnamon
1/2 teaspoon lemon juice
1 – 2 tablespoons heavy cream
1 tablespoon raw sugar
Prepare the pie dough and refrigerate, if needed. Preheat the oven to 375°F.
In the meantime, stir together the peaches, honey, tapioca, cinnamon, and lemon juice in a large mixing bowl.  Toss to mix well.
Divide the pie dough in half.  Roll out the bottom crust and place it in the bottom of a pie dish.  Fill the bottom crust with the peach filling.  Then, roll out the remaining dough for the top of the pie.
You can simply place the top crust on top of the filling and cut slits in it.  Or, you can make a lattice crust (which, happens to be my preference).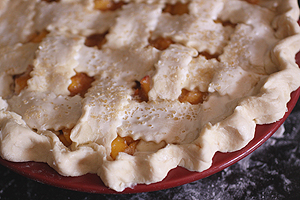 Brush the top of the pie with heavy and sprinkle with raw sugar.  Cover the pie with aluminum foil, and bake for 30 minutes.  Remove the foil, and bake for an additional 30 minutes, until the filling is bubbly and the top of the pie is golden.  Allow the pie to cool on a wire rack before serving.