It's been a little while since I let Yellowdog guest post here on the site. She loved everyone's comments on her last post, and she's just been begging and barking to do another post.
Since I let my hubby guest post a few weeks ago, it's only fair that I give Yellowdog another chance to share her perspective.
As my sous chef, she does have quite a bit of kitchen expertise to offer.  So, I thought I'd let her take over for this week's Works for Me Wednesday post.  I suppose that makes it a Works for Yellowdog Wednesday post, which isn't nearly as catchy. But, that's not really her fault!
And, since we're just getting back from a week of vacation (away from the computer and the cell phone!), doing things a little differently is working for me, too!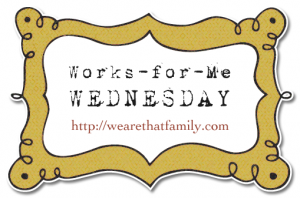 Works for Yellowdog Wednesday
Normally I would greet you with my blue blankie in my mouth and my tail wagging, but today I am dog tired… I hope you don't mind if I simply say hello from atop my favorite dog bed (that has been freshly fluffed by my mom… I do love a freshly fluffed dog bed!).
I typically have considerably more energy, but I just spent the past week camping near the Pennsylvania Grand Canyon.  It's a bit of a family tradition that I share with my best hound dog buddy, Bowser (I consider him my cousin, but I guess he's technically more like an uncle!). Since our parents don't trust us to sleep calmly in tents (I suppose we do tend to be quick to bark at passing dogs and other animals in the woods), we get to stay in cabins. They blame us dogs, but I know that my mom just likes being able to do her hair in the morning. She can be a bit high maintenance. I should know.
Anyway, enough about my mom… It's always all about her around here, but this is my post!
On our camping trip, Bowser and I stayed pretty busy.  We spent the days hiking and napping (with the occasional ice cream treat!).  Then, we went for an evening swim in the lake. We also patrolled the area around the cabins to make sure that there were no intruders. We may have had a few false alarms, but better safe than sorry, right? Needless to say, by the time that dinner rolled around each night, we were dog tired.
Since our mom's both rely on our assistance in the kitchen (they don't admit it, but we are both great supervisors and things wouldn't run smoothy without us!), we had to make sure to keep things simple at dinnertime. We both enjoyed the sausages and hot cats (we don't eat hot dogs, that would be just wrong!) that our people prepared for us around the campfire. But, since a dog cannot live on hot cats alone, we had to make something else, too. So, we decided that we could handle some campfire chicken. We got the people to do most of the work. We were on vacation, after all.
The recipe is perfect for a busy dog on vacation… It won't take up too much of your peoples' time, so they can go hiking and swimming with you. Plus, it's a lot of fun to steal the firewood while they are trying to make a fire for dinner. Secretly, I think my dad enjoyed chasing me around trying to get the sticks back. Fun for everyone!
Campfire Chicken
(Serves about 8 people, or a few hungry dogs)
6 1/2 pounds chicken drumsticks
1 quart buttermilk
House seasoning or grill seasoning
(Your favorite… I think my nose detected some paprika in the blend my mom used. But, if you're making this for canine diners, you might want to skip the seasoning!)
Freezer ziplock bags
Aluminum foil
Make sure that your kitchen helper has clean hands (this is difficult to do with paws, so you'll need your person to help!). Instruct him/her to divide the chicken drumsticks among four freezer bags.
To keep the chicken moist (and we dogs don't like dry chicken any more than our people do!), my secret is to marinate it in buttermilk. Have your helper divide the buttermilk among the freezer bags, adding about one cup to each bag. Then, he/she should sprinkle about 2 teaspoons of seasoning in each bag, seal it, and then shake everything around to make sure the chicken is evenly coated with buttermilk and seasoning.
It wouldn't hurt to have your person double bag the chicken, either… Especially if you're going to be putting it in the cooler!
Get your person to put the chicken in the freezer. Then, when you are getting ready to go on your camping trip, it gets packed in the cooler. It will thaw in there and be ready when you are getting hungry for dinner!
While your person starts the campfire, be sure to sneak around and steal a few sticks to chew on. Your person will be too busy wrapping the chicken in the aluminum foil (after shaking off any excess buttermilk) to stop you!
After being sure to sniff the foil packets of chicken, you can let your kitchen helper put them in the fire to cook. I don't know exactly how long it took for them to cook, and I think it might depend on how hot the fire was. I just know that I chewed through a few sticks while I was waiting!
Bark when the chicken is done cooking so that you're people don't forget to serve you (once the packets have cooled a bit from the fire, of course!). Just don't eat the chicken bones or you might have a sick tummy and you'll miss out on hiking and swimming the next day!
Please note – This recipe is not actually intended for dogs to eat. We did give the dogs a few scraps, but they did not eat a considerable amount of the chicken. Be sure that you only feed your dog foods that are safe for them to eat (and many seasonings may include some ingredients they shouldn't have)… And, of course, avoid giving your doggy any chicken bones!