Today, I'm happy to introduce you to my hubby… You've heard a lot about him if you read my blog regularly.  Normally, he's pretty quiet, but he agreed to write a guest post for me to give everyone a quick update now that I am home from the hospital.  He even took the photographs himself!
I'm really happy to be home (and doing fairly well)… And, feeling so lucky to have a great hubby who is helping out with everything, including blog posts… Thanks, hon!
Hello.
Hubs here.
Jen is home from the hospital, but has strict instructions to take it easy for the next 2 months while she recovers from her surgery. During this time I'm assuming the reigns as head chef, as long as sous chef Yellowdog doesn't try to muscle her way in! Our first meal home from the hospital was frozen macaroni and cheese that Jen prepared earlier in the week. I microwaved it. I pressed the "reheat pasta" button. I can do microwaves, they don't scare me one bit.
Dinner, though, is another story. You see, our CSA share from Spiral Path Farm started delivering fresh produce this week. Every week is a guess-the-vegetable surprise party. Jen loves the variety and challenge of developing new recipes with whatever delight we find in the box. I just love the organic freshness. Jen never ceases to amaze me with her kitchen creativity. Seriously. We eat well.
So, back to dinner. Picture this scenario…
Jen is home resting on the sofa, eyes closed, possibly asleep. I open the refrigerator and remove the CSA bag (that was lovingly picked up for us by family members earlier in the week, thanks!). I place it on the island and start to peer into the bag, hoping for heirloom tomatoes (I've never had better tomatoes than the ones from our CSA share). I pull out a green looking thing, with white on the end. Uh? No idea. Try again… Ah, great, something I recognize. Clearly that's lettuce. Now we're getting somewhere.
I pull out some other items: spinach, onions… but I have to consult Jen at this point. Do I store this in the crisper drawer? What about this? In a plastic bag? Oh, okay, that doesn't get refrigerated. She's awake, and staring at me with that what-are-you-doing-in-my-precious-kitchen look in her eye.
I find out those green things.. yeah, they're leeks. And they're for dinner.
"Can I microwave them?"
"No," she says, her creative mind running through possible scenarios. "But we can cook them in bacon fat."
"SOLD!"
I help Jen from the sofa into the kitchen. I bring in a cafe table chair from the sunroom and place it next to the island. She takes command in the kitchen like a lifeguard protecting the beach. With her help I'm able to navigate the cabinets for tongs, cutting boards, pans, and her precious chef's knife. I unsheathe the knife reverently, knowing that with great power comes great responsibility.
"So, how do we cook with a leek? You cut up the green leafy parts and eat that, right?"
"No. Not at all actually."
There's a reason Jen makes the meals around these parts.
I find out the dinner plan. Grilled Italian turkey sausage, grilled broccoli, and potatoes with bacon and leeks. I start preheating the grill and get to work.
Potatoes with Bacon and Leeks
2 strips of bacon (eh, use 3, bacon is t-a-s-t-y)
6 small potatoes
1 leek
Salt and fresh ground pepper
Place the strips of bacon in a pan over medium heat. I cheated and used a non-stick pan, because, quite frankly, I'm afraid to touch Jen's All-Clad pans. Don't stir, just walk away.
While the bacon is cooking, chop the potatoes into bite size pieces and prepare the leeks. Remove the leafy green from the leek and finely chop the white pieces. You might need to wash some grit away in the process.
Return your attention back to the bacon. It's probably ready to be flipped.
Once the bacon is cooked, remove and set aside. Mix the potatoes and leeks into the pan, remembering to place them into the pan away from you. The hot fat from the bacon might splatter as items are added, and you don't want to burn yourself.
Add a pinch of salt and a few cranks from the pepper grinder. Give the pan a shake to stir everything together.
Once the potatoes have browned, chop the bacon and add it back into the pan. Serve immediately.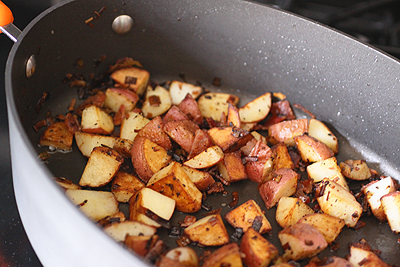 And, no, this isn't quite good enough to make it to the husband's picks, but it makes for a great dinner side… especially after days of hospital food. Did I mention this is easy, too? Even a husband can do it!
On a serious note, thank you all for your thoughts, comments and support during this time. Jen and I cherish them. They truly mean a lot to us.
I'm looking forward to nursing Jen back to health over the next few months. With her guidance in the kitchen, I hope to eventually create something that IS a husband's pick. If I do, you'll be the first, no wait, second to know.
Until we meet again…