Last week, I shared my tip for using parchment paper to get your pizza in and out of the oven.  Then, it occurred to me that I haven't shared my secrets for making homemade pizza dough.  What good is a trick for transporting your homemade pizza if you don't have a great recipe for the pizza dough?
Never fear… The recipe is here.
Over the last few months, I've been on a bit of a quest for the perfect pizza dough. I've tried lots of different recipes and methods.  Some worked, and some didn't… But I wasn't completely satisfied.  In the end, I found that changing up my ingredients a bit made the biggest difference.  So, today I will show you my favorite pizza dough ingredients and the recipe that works for me!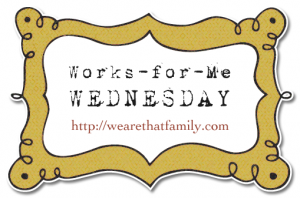 The Ingredients…
Most of the pizza dough recipes that I have seen call for all purpose flour, so that is what I typically used for my pizza dough.  When I wanted a healthier pizza dough, I would add some whole wheat flour into the mix.  It was decent, but it never seemed quite right.
So, when I got a gift card for King Arthur Flour for my birthday, I decided to try a few new flours.  I have never found a King Arthur product that I didn't love, and these are no exception.  Here are my secrets for the perfect pizza dough…
Italian Style Flour – This flour is smooth and silky and has the perfect texture for pizza dough that is chewy… Just like the pizzaria down the street!
White Whole Wheat Flour – I try to incorporate whole grains wherever I can, and pizza is no exception.  Many traditional whole wheat flours make the dough a bit heavy, though. White whole wheat flour keeps things nice and light while adding all of that whole grain goodness. Oh, and it's not just for pizza!
Pizza Dough Flavor – I don't typically buy spice mixes and flavorings, but this is one place where I make an exception.  Sure, you could try to find the perfect blend of spices to add to your pizza dough, but the nice people over at King Arthur have already figured it out.
If you're interested, you'll probably need to order the Italian Style Flour and Pizza Dough flavor online.  You will probably find the White Whole Wheat Flour at your local grocery store, though!
The Dough…
Lately, when I make pizza at home, I have been using a version of the pizza dough from The Pioneer Woman Cooks. I love that it makes enough dough for two pizzas.  I typically make one pizza and then stash the leftover dough in the fridge for a day or two and use it for stromboli or a deep dish skillet pizza. Plus, it's so simple and easy that I have almost committed it to memory!
Whole Wheat Pizza Dough
(Adapted from The Pioneer Woman Cooks, find the original recipe here)
Begin by dissolving the yeast and sugar in the lukewarm water.  Add the Italian style flour, olive oil, pizza dough flavor, and salt, and whisk together until the mixture is smooth.
Gradually add the white whole wheat flour, about 1/2 cup at a time. Continue to stir with a wooden spoon or a large, sturdy whisk (I love this dough whisk from King Arthur, too) until the dough pulls away from the sides of the bowl.  Then, use your hands to knead the flour as you work in just enough of the whole wheat flour that the dough doesn't stick to your hands. Knead until the dough is soft, smooth, and silky.
Transfer the dough to a greased or oiled bowl, and cover with plastic wrap.  Let it rise in a warm place for about 2 hours, or until it has doubled in size.
Once the dough has risen, you can shape into two large pizzas and top with your favorite pizza toppings. Bake at 450°F for about 12 – 15 minutes.
Please Note -The links to The Pioneer Woman Cooks are Amazon Affiliate links.

I am not affiliated with King Arthur Flour… I just love their products!