I find that I tend to only post the "special" recipes that I make here on my blog… When I make something simple and easy for dinner, I often think that it's not "blog worthy" and skip over it.
While I don't think anyone wants to read about it every time I make grilled chicken or a salad, I do think there is some interest in simple and tasty meal ideas.  After all, I can't imagine that everyone has time to make a fancy, gourmet meal every night of the week. I sure don't!
So, since we've been talking about grilling all week (due to a certain grill giveaway…), I thought I'd share with you some simple ways to cook vegetables on the grill. I've been in a "simple cooking" kind of mood this week, and cooking on the grill is a great way to make simple food that tastes great. Last night for dinner, we had grilled chicken salads (with lots of fresh veggies from our first CSA share of the year!), and I grilled up some extra chicken so that I would have leftovers to make panini tonight.  I always have to have some veggies with dinner, though (my mom would be proud), so I decided to cook some potatoes and broccoli, as well.
I knew that I wanted to grill the potatoes, because I love the smoky flavor that the grill adds.  I had planned to steam the broccoli, but as I was getting the potatoes on the grill, it occurred to me that the broccoli would cook well in foil packets and I wouldn't have to wash my steamer set (my real motivation)! Both dishes were super easy and tasted great… If you're grilling up steaks, chicken, or burgers (or really anything else), why not give these a try and cook your entire meal outside?
Grilled Potatoes
1 pound fingerling potatoes (or red potatoes), cut into bite-sized pieces
1 onion, cut into chunks
1-2 tablespoons extra virgin olive oil
Spicy dried pepper seasoning blend (I like Mrs. Dash Extra Spicy)
Kosher salt
Juice from 1/2 lemon
Freshly parsley, chopped (about 1/2 tablespoon)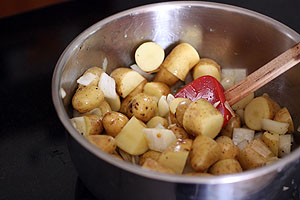 Toss the potatoes and onion together with the olive oil.  Add a dash or two of the pepper seasoning blend, depending on how spicy you like your potatoes, and season with a little bit of salt. Cook in a grill pan or grill basket over medium heat until the potatoes are fork tender and charred a bit on the outsides.
Transfer to a serving dish, squeeze the lemon juice over the potatoes, and garnish with chopped parsley.
Broccoli Packets
2 cups (approx) broccoli florets
Juice from 1/2 lemon
Freshly ground black pepper
Kosher salt
Arrange the broccoli on two squares of aluminum foil. Sprinkle with lemon juice, and season to taste with salt and pepper. Wrap the foil around the broccoli to make a packet. Grill over medium heat until the broccoli is tender, flipping once.
There's still time to enter the grill giveaway!
Don't forget that you still have plenty of time to enter my grill giveaway! Check out my recipe for burgers for all of the details.  And, don't forget to stop back for tomorrow's Friday Favorites for another opportunity to enter the giveaway!