I don't need to tell you that I love to cook on the grill… You already know that.
I probably don't need to tell you that I love burgers, either.  They are a summertime staple at my house, and with Memorial Day just around the corner, I thought it would be fun to share my basic burger recipe with you! Sure, I enjoy creative burgers with lots of flavors and toppings, but sometimes a plain old cheeseburger is what I really want.  Plus, a good burger recipe is like a blank canvas for all kinds of new creations!
Before I get to the recipe, I have a bit of an announcement…
Sam's Club has given me the opportunity to give away a shiny new (candy apple red!!) patio grill!
So, if you don't have a grill or need to replace a grill that has seen better days, this could be your lucky day. Here's a bit more information about the grill…
The Sam's Club 2010 Patio Grill is everything you need for small to medium size cookouts, while taking up a minimum of space. This year's model has a 60% increase in BTU's (26,000), and has a 33% larger cooking area than last year. The shelves fold down and it comes with a cover and has wheels for easy storage. It comes with a warming rack. It uses a full size LP tank, unlike some other portable grills. We have had a ton of comments on how unique and sleek the styling is.
It has been a real hit with people who have limited space, and retirees who like the size.
Here's how you can win…
Simply leave a comment on this post telling me about your favorite thing to cook on the grill during the summer! It's that easy… You will have until next Monday, May 24th at 10:00pm EST to enter the giveaway. The winner will be selected randomly and announced next Tuesday!
I will also be announcing ways that you can get additional entries in the giveaway throughout the week, so stay posted!
Please note – Due to the nature and size of the item being given away, only U.S. residents are eligible to win.
Sam's Club provided me with a complimentary membership a few months ago.  I was initially shocked (and somewhat amused) by the enormous sizes of some of the "economy-sized" items… For example, I am still amazed by the single can of tuna that is bigger than my head. At first I wasn't sure that Sam's Club would be for me… After all, I primarily cook from scratch and I really don't use many prepared foods in my kitchen.  I don't buy giant economy sized boxes of cereal or giant cases of soda, but I have found that it's possible to buy great ingredients at Sam's Club! I am a big fan of the boxes of organic spring mix and spinach in the produce section (which is a great buy, at about half the price of the same stuff at my local grocery store). I have also found some good deals on baking ingredients, nuts, and spices.
Sam's Club also has some great recipes and tips in the Let's Eat portion of their site. I especially like the marinade recipes… Making your own marinades (instead of buying a bottled marinade)
is a great way to control the flavors and quality of ingredients (i.e. no HFCS) when you're cooking on the grill this summer. Plus, they're quick and easy!
Now… Let's get to that burger recipe!
Basic Burgers
1 pound lean ground beef (I typically use 90/10)
1 egg
1 tablespoon Montreal Steak Seasoning (or other grill seasoning)
2 tablespoons Worcestershire sauce
1/2 cup bread crumbs
Gently combine the beef, egg, seasoning, Worcestershire sauce, and bread crumbs in a large mixing bowl, using your fingers. Don't over work the meat or it may become tough.  Once all of the ingredients are incorporated, divide the mixture into four equal portions, and shape into burger patties, pressing down a bit in the center to help the burgers cook evenly.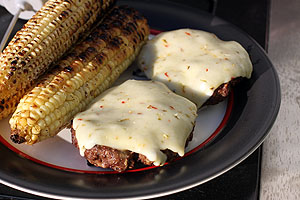 Cook to your desired temperature (I like my burgers medium-well) on the grill, a grill pan, or on a skillet. Top with your favorite toppings, and enjoy!
Now that you have my basic burger recipe, don't forget to leave a comment about your favorite grilling recipe for a chance to win the pretty red grill… And, stop back all week for more ways to win!
(Please note – The grill giveaway has ended and comments will no longer be accepted on this post.)
My Kitchen Addiction Product Review Policy and Disclosure– The patio grill being given away has been provided by Sam's Club.  I received this product (Sam's Club Membership) at no cost from the manufacturer (or a representative PR firm) for the purpose of testing and reviewing the product. Unless specified otherwise, I do not accept monetary compensation for reviewing or writing about products. I only review products that I have personally tested and used in my kitchen/home, and all opinions expressed are my own.