I have been craving scones for a while now. Honestly, I'm not sure why I didn't make them sooner.
Yesterday, I got up early with great intentions of making doughnuts for Fasnacht Day.  The more I thought about deep frying doughnuts and the inevitable mess that would result, the less inspired I felt.  So, I pulled out my new favorite cookbook and started hunting for something to bake in place of doughnuts.  As I went through all of the recipes that I had marked with sticky notes (which is nearly every recipe in the book), the Cinnamon-Filled Scones jumped out at me.
I knew that I had most of the ingredients on hand, and I figured I'd mix it up a bit for the rest. I was recently sent a sample of the milled golden flax from FlaxMatters.com and I have been trying to incorporate it into my baking.  So, I figured the scones were a good place to start.  Adding flax when baking ups the fiber in your recipes, and it it also provides ALA-Omega 3.  I was pleased with the flax in this recipe and will continue to use it in my baking and recipes!
For my first try at the recipe, substitutions and all, I was pleased with how these scones turned out.  Both my hubby and I enjoyed eating them for breakfast (and the house smelled *amazing* as they were baking).  They made a great late-afternoon snack, too.
I will definitely be making these scones again…  I love the beautiful ribbon of brown sugar and cinnamon that ran through the middle of all of the scones. Next time I may play around with the flavors a bit, adding cranberries or nuts to the dough/filling. I think this recipe serves as a great foundation for some fun scone experiments in the future!
Cinnamon Stuffed Scones
(adapted from King Arthur Flour Whole Grain Baking Cookbook)
For the filling:
3 tablespoons unsalted butter, softened
2/3 cup dark brown sugar, lightly packed
1 tablespoon cinnamon
1 tablespoon all purpose flour
For the dough:
1 cup old fashioned rolled oats
1 1/2 cups white whole wheat flour
1/2 cup all purpose flour
1/4 cup milled golden flax
1/3 cup granulated sugar
1 tablespoon baking powder
1/2 teaspoon salt
1/2 cup (1 stick, 4 ounces) unsalted butter (cold)
6 ounces plain greek yogurt
1/4 cup lowfat milk plus additional to brush on tops of scones
1 egg
1 teaspoon vanilla extract
1 cup cinnamon chips
Cinnamon sugar for sprinkling on top of scones
Preheat the oven to 375°F.  Lightly grease a nine-inch cake pan and cut a circle of parchment to line the bottom of the pan.  Set aside.
In a small mixing bowl, combine the ingredients for the filling, using a fork to evenly incorporate the butter to form moist crumbs.  Set aside.
In a large mixing bowl, combine the dry ingredients for the dough – the rolled oats, white whole wheat flour, all purpose flour, milled golden flax, granulated sugar, baking powder, and salt.  Use a pastry blender (or your fingertips) to cut the butter into the dry ingredients until the mixture resembles sand or cornmeal.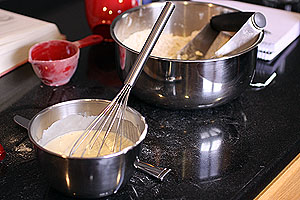 In a separate bowl, whisk together the yogurt, milk, egg, and vanilla extract.  Add the wet ingredients and the cinnamon chips to the dry ingredients. Use a fork to incorporate the wet ingredients into the dry, just until a dough forms.  Turn the dough out onto a floured surface, and use your hands to gently knead the dough and form it into a ball.
Divide the dough in half.  Shape each half into a disc that is approximately 9 inches in diameter (to fit into the pan).  Place one of the discs of dough in the bottom of the prepared baking pan. Spread the prepared filling on top of the first disc. Top with the second disc of dough, pressing down lightly to remove any air bubbles.
Use a dough scraper to cut the scones into 12 wedges (this sounds like a lot, but the scones will really bake up… 12 servings worked out to be the right size, in my opinion!). Brush with milk and sprinkle with cinnamon sugar.
Bake the scones for 40 minutes.  Remove from the oven and cool on a wire rack for 10 minutes. Use a wire rack to flip the scones out of the pan, and then use a plate to invert the scones one more time so that they are right-side up.
These are especially wonderful warm, but they can also be served at room temperature!
Another Cake Off Reminder…
You still have three days to vote in Kelly's Cake Off for a Cause and be entered to win cookies personally decorated by me! Get all of the details here.
My Kitchen Addiction Product Review Policy and Disclosure– I received this product (golden milled flax) at no cost from the manufacturer (or a representative PR firm) for the purpose of testing and reviewing the product. Unless specified otherwise, I do not accept monetary compensation for reviewing or writing about products. I only review products that I have personally tested and used in my kitchen/home, and all opinions expressed are my own.