As many of you already know, I spent most of this week in New York City attending Kelly's Cake Off for a Cause – a great event sponsored by Electrolux to raise money for the Ovarian Cancer Research Fund.  So, instead of my usual Friday Favorites post, I thought I'd use this post to tell you a little bit about my trip! I'll be sharing lots of pictures, a few of my favorite links related to the event, and even giving you the opportunity to win some goodies from ME… Keep reading!
All About My Trip…
I headed to NYC on the train on Monday morning… When I arrived, I had coffee with two of my favorite cookie decorators- Bridget from Bake at 350 (who also happens to be one of my Cake Off teammates) and Gail of One Tough Cookie (be sure to see the picture her cookies of Rachael Ray's doggy that were recently the Snack of hte Day!). We sipped cappuccinos at Pastis and chatted about everything from cookies and cakes to blogging!  It was a fabulous time, and I am so thrilled that I got to meet them both.  It was a great way to kick-off the trip!
On Monday evening, I had the privilege of going to The Spotted Pig where I got to mix and mingle with all of the other bloggers who were participating in the Cake Off.  Not only were we served some great food, but we got to watch a cooking demonstration by Chef April Bloomfield.  It was somewhat comical to watch all of the bloggers whip out cameras at the sight of food, too!
On Tuesday, we got up bright and early to go to the taping of Live with Regis and Kelly. After that, we had a few hours of free time, so I headed down to Magnolia Bakery with a few of my fellow bloggers (Sandy of Iron Cupcake fame, Laura of The Cooking Photographer, and Josie of Daydreamer Desserts).
In no time, it was time to head over to Chelsea Market for the big Cake Off event! We arrived a few minutes early and had lunch and hung out in a beautiful space on the 6th floor of Chelsea market. We all chatted and marveled at all of the people buzzing in and out getting ready for the event!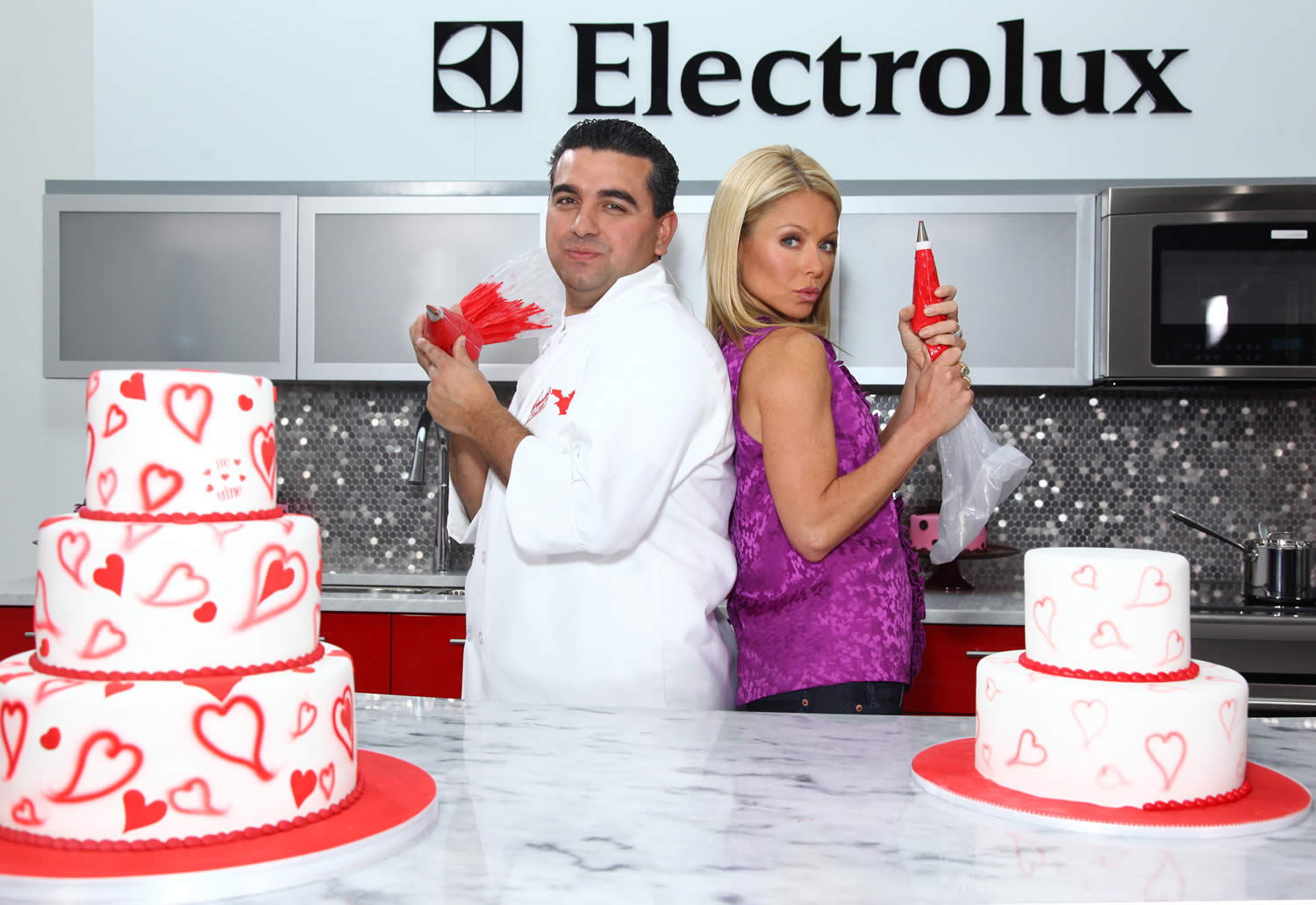 Then, in no time, we were whisked into the room where the event was being held to watch the photo shoot with Kelly Ripa and Buddy Valastro (the Cake Boss!).  There were cameras everywhere, and we all marveled at the great lighting (again, with a group of food bloggers, we couldn't stop thinking about taking pictures!). Pretty soon, the event was beginning, and we got to watch Kelly and Buddy do some cake decorating and make some delicious chocolate covered strawberries (they were good, I had one!).
After the demo was over, it was time for us to get started! The 15 bloggers were divided up into groups of three, and each group got to decorate a themed cake designed by Buddy!  I was paired up with Diana of A Little Bit of Spain in Iowa and Bridget of Bake at 350…
We covered a two-tier cake with pink fondant and decorated it with chocolate fondant polka-dots and a chocolate fondant bow! We had a fun time decorating and got some great tips from Buddy and the guys from Carlo's Bakery.  They were a great help and were so much fun to meet!
After the event, I had a lovely dinner at Mesa Grill (ah-mazing… let me just say!) with Sandy from No One Puts Cupcake in a Corner! The food was fantastic, and we had a great time. Unfortunately, my pictures didn't turn out real well, so I don't have pictures to share with you from dinner.
I was supposed to leave on Wednesday, but it was snowing in NYC (and *really* snowing at home), so I ended up staying an extra day.  Unfortunately, I spent a lot of my extra time in the city going back and forth between the hotel and Penn Station, trying to figure out how I was going to get home.  I ended up pulling an all-nighter on Wednesday night, on the phone with Amtrak and getting ready to check out of the hotel at 4:45am.  It was worth it, though, because I managed to get home on the one-and-only train yesterday. After that, I slept for about 16 hours!
Cake Off Friday Favorites…
For my Friday Favorites this week, I thought I'd highlight some sites relevant to Kelly's Cake Off for a Cause.  Here are a few of the blog posts and sites that I have found with information about the Cake Off!
Cake Off Giveaway!
Here is the most important information about the Cake Off… Each time you visit Kelly-Confidential.com to vote for one of the cakes in the Cake Off or create a virtual cake of your own, Electrolux will donate $1 to the Ovarian Cancer Research Fund!
So, to encourage you to keep voting (which you can do once a day), my teammates and I decided that we would each do a small giveaway on our site! I will be giving away one dozen of my cookies (that will be decorated in pink and brown to match our cake in the Cake Off!) to one of my lucky readers!
Here's how you can enter the giveaway…
Visit Kelly-Confidential.com and VOTE for our Take a Bow cake!  You can vote once a day from now until February 19th, and each vote will count!
Come back here and leave a comment letting me know you voted… You will get one entry into the giveaway for each vote, so make sure to leave a comment each time you vote!
Since I really want you all to go out there and spread the word about the Cake Off to your friends and family, I will also be giving you two additional ways to enter the giveaway!
Spread the word on Twitter – Tweet the following message and the leave me a comment with your Twitter name so I can verify your tweets:
Vote for the Take a Bow cake in Kelly's #CakeOff for a Cause – Electrolux will donate $1 to OCRF! http://bit.ly/cis5Rd (RT, please)
Spread the word on your blog – If you mention the #CakeOff and encourage your readers to vote for their favorite cake or send a virtual cake, include a link back to this post! Simply leave a comment with a link to your post so I can check it out and give you credit for the giveaway!
Good Luck! I will be announcing the winner of the giveaway in next week's Friday Favorites post. Keep on voting!!
My Kitchen Addiction Disclosure – My participation in Kelly's Cake Off for a Cause was sponsored by Electrolux and Foodbuzz who provided me with travel arrangements and accommodations in New York to participate.
Note – The comments have been closed on this post because the giveaway is over!