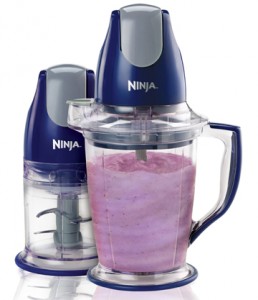 Hello, my name is Jen, and I am a frappucino addict.
Just thought I'd put it out there…  We're all friends here, right?
The good news is that it looks like there will be plenty of frappucinos in my future, and I won't even have to leave the house!  You see, I will be attending an event in New York City hosted by Euro-Pro where Robin Miller will be demonstrating their newest kitchen appliance the Ninja Master Prep!  I never imagined that I would be in the same room with one of the Food Network chefs when I started my blog.  It still amazes me!
According to their site, the Master Prep "minces, dices, chops, blends, and purees" – sounds like the perfect marriage of food processor and blender to me.  After watching the videos, I am pretty sure that the Master Prep will become a constant fixture on my counter for homemade frappucinos.
If the prospect of homemade frappucinos isn't exciting enough, I also found out that I will have the opportunity to meet a few of my favorite bloggers at the event! This will be my first "event" and the first time I get to meet other food bloggers.  I'm very excited!  You can be sure that this is not the last you will hear about my trip to New York and the Ninja Master Prep.
I will be traveling with Jendi of Jendi's Journal and Simple Vlogging Tips.  I'm sure we will have a blast… and I may even learn a thing or two about video blogging (contain your excitement!)… I will be sure to dig out my Flip video camera!
Now, I just have to figure out what to wear…