This beef enchiladas casserole was originally inspired by a recipe my mom used to make.  It is one of the first dishes I learned to cook. I have refined the recipe over the past few years, and it is one of my favorites.   I often make it when we have friends over for dinner – it's always a big hit!
Enchilada Filling Ingredients:
1 tablespoon extra virgin olive oil
1 pound lean ground beef
1 large onion, diced
1 jalapeño, seeded and diced
2 tablespoons flour
1 tablespoon chili powder
1 1/2 teaspoons ground cumin
1 teaspoon kosher salt
14.5 ounce can fire-roasted diced tomatoes
Enchilada Filling Directions:
Heat the olive oil in a large fry pan over medium heat. Add the ground beef and brown in the olive oil.  Add the onion and jalapeño, and cook for an additional 3-5 minutes, until tender.  Add flour, chili powder, ground cumin, and salt to the beef mixture, stirring to combine.  Add the tomatoes and reduce heat.  Simmer for 15 minutes while preparing the sauce.
Enchilada Sauce Ingredients:
3 tablespoons extra virgin olive oil
6 cloves garlic, minced
1/4 cup flour
2 cups beef stock
15 ounce can tomato sauce
1 tablespoon chili powder
1 teaspoon ground cumin
Kosher salt to taste
Enchilada Sauce Directions: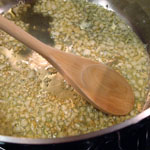 In a sauce pan over medium heat, saute the garlic in the olive oil.  Once the garlic is golden, add flour. Cook flour mixture for one minute, stirring constantly.
Continue to stir and gradually add beef stock.  Bring to a boil and then cook for an additional 2 minutes. Stir in the tomato sauce, chili powder, ground cumin, and salt.
Remaining Ingredients:
8 large flour tortillas, burrito size
8 ounces colby jack cheese, shredded
2 scallions, thinly sliced
Assembly Directions:
Preheat the oven to 375°F.  Cover the bottom of a large baking dish with 1 cup of the enchilada sauce.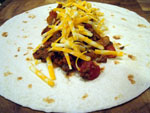 Spoon 1/8 of the beef mixture onto a flour tortilla.  Sprinkle with cheese. Wrap the mixture in the tortilla, tucking in the sides (similar to wrapping a burrito).  Place the tortilla in the baking dish and repeat for the remaining 7 tortillas.
Top the tortillas with the remaining sauce, and sprinkle with the remaining cheese.  Bake uncovered for 15 minutes until the sauce is bubbly and the cheese is melted.  Serve garnished with sliced scallions.