When I'm dreaming up my menu for the week, I will often ask my husband if he has any dinner requests for the week.  Last week when I asked, he said "something Mexican with meat."  I think he was thinking of my Beef Enchiladas (pardon the awful picture… that recipe's on my remake list), which I haven't made in a while, but I wanted to make something new.  I also wanted to use up a bunch of the veggies from our CSA and garden… That's my constant goal in the summer!
So, I just started cooking. I knew I had some tortillas on hand and some shredded chicken, so I figured I could fulfill the "Mexican with meat" request in one way or another.  When all was said and done, this dish turned out to be a bit of a "fusion" dish… A PA Dutch-Mexican fusion dish (yes, it sounds a bit strange, but it worked).
I grew up (and still live) in Central Pennsylvania where Amish/Pennsylvania Dutch cooking is popular.  One of the popular church supper/sale dishes around here is chicken corn soup.  When we were eating my "Mexican lasagna", both my husband and I noticed its definite chicken corn soup-like flavor…. But with a definite Mexican twist!
Overall, we ended up really enjoying this twist on lasagna, which is why I'm sharing it with you… It was good enough that we enjoyed the leftovers and will happily eat the leftovers that I froze for a busy night dinner in the near future.  It may not be your traditional Mexican lasagna dish (which when you think about it, there's really nothing traditional at all about Mexican lasagna), but I definitely think it's worth making again!
Mexican Chicken Corn Lasagna
For the sauce:
1 tablespoon extra virgin olive oil
4 cloves garlic, minced
28 ounces crushed tomatoes (or tomato sauce)
2 tablespoons chili powder
2 teaspoons ground cumin
Kosher salt
For the filling:
1 tablespoon extra virgin olive oil
1 yellow onion, diced
1 small yellow squash, diced
1 bell pepper, diced
1 jalapeño, minced
2 ears of corn, cooked and cut off of the cob
3 cups cooked shredded chicken
1/4 cup fresh cilantro, chopped
Kosher salt
Freshly ground pepper
To finish the lasagna:
Corn or flour tortillas (about 12, will vary depending on the size of your baking dish)
Cheddar cheese, shredded (about 8 ounces)
Sour cream (optional)
Guacamole (optional)
Preheat the oven to 375°F. Spray a 9 by 13-inch baking dish with cooking spray and set aside.
To prepare the sauce, heat the olive oil and garlic in a sauce pan over medium heat until the garlic becomes golden and fragrant.  Add the crushed tomatoes and spices, and stir to combine. Bring to a boil and then reduce to a simmer while you prepare the filling. Season to taste with the Kosher salt before using the sauce in the lasagna.
Meanwhile, prepare the filling by heating the olive oil in a large skillet (or saute pan) over medium heat. Add in the onion, squash, bell pepper, and jalapeño.  Saute the vegetables until tender. Add in the corn and saute for another minute.  In  separate mixing bowl, combine the shredded chicken and cilantro.  Add in the sauteed vegetables and season with salt and pepper.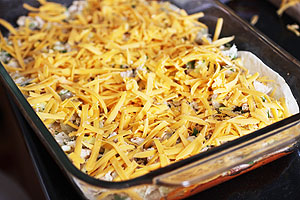 To assemble the lasagna, spread a layer of sauce on the bottom of the prepared baking dish.  Top with a layer of tortillas.  On top of the tortillas, spread half of the filling. Top the filling with cheese and another layer of sauce. Repeat the layers of tortillas, filling, cheese, and sauce. Finally, top the lasagna with a final layer of tortillas, sauce, and cheese.
Bake uncovered for about 30 minutes until bubbly. Allow the lasagna to rest for at least 10 minutes prior to serving. If desired, serve topped with sour cream and guacamole.