Many recipes are written for four to six servings.  However, I am typically cooking for two.  This is a quick and easy southwestern chili recipe that yields two hearty servings – perfect for a cold winter night!
Ingredients
1 tablespoon extra virgin olive oil
1/2 pound of ground turkey breast
1 cup green bell pepper, diced
1 cup red bell pepper, diced
1 cup yellow onion, diced
2 cloves garlic, minced
1 tablespoon chili powder
1 tablespoon smoked paprika
1/2 cup chicken stock
1 (15 ounce) can black beans, drained and rinsed
1 (14.5 ounce) can diced tomatoes
1 (4 ounce) can fire-roasted diced green chiles
kosher salt
coarsely ground black pepper
Directions

In a large sauce pan, heat the olive oil over medium heat.  Add the ground turkey and cook 4-5 minutes, breaking it up as it browns.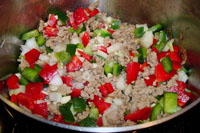 Add the peppers, onion, and garlic, and cook, stirring occasionally,  for about 5 minutes.  Once the vegetables are tender, stir in the chili powder and smoked paprika, cooking for an additional minute.
Deglaze the pan with the chicken stock, stirring well and scraping any browned bits from the bottom of the pan.  Add the black beans and the tomatoes.  Season to taste with salt and pepper.  Bring to a boil, then reduce heat and simmer for an additional 10 minutes.
Serve with grilled cheese, or top with tortilla strips and shredded cheddar cheese.