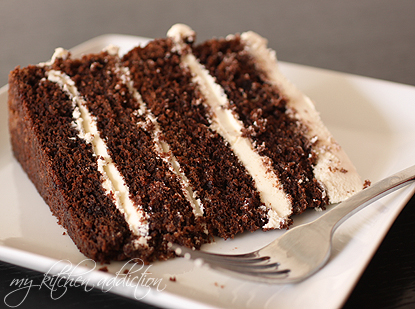 Three years of blogging… Yesterday, actually (but, decided to postpone celebrating for the #SOPASTRIKE).
Some days it seems as though I've been blogging forever.  Other days, I feel like it was just yesterday that I decided to start this online recipe journal.  But, not a day goes by that I'm not grateful for the community I joined when I started blogging.
I don't really intend to take you on a tour of everything I've written over the past few years… Though, things have certainly changed a bit around here over the years.  Don't believe me? Just take a look at one of my oldest blog posts. The photos are lousy, and the writing isn't much better. You can judge for yourself.
Though I'd like to think that my photography and writing have both improved over the years, when I look back, I feel that the effect that the blogging community has had on me is far more important than recipes, photos, and blog posts.  I've met some of my best friends.  I've seen the community rally together to help friends in need. I'm happy to be able to say that I've been a part of the food blogging community for 3 years!
So, today I'd love for you all to join me in celebrating…  And, there's no better way to celebrate than with cake!
I've seen variations of a chocolate stoudt cake with Irish cream frosting featured on blogs, in magazines, and on restaurant menus over the past few years.  Until recently, though, I had never made one. But, it seemed like the perfect decadent cake to feature here on my 3 year blog anniversary.  I'm not sure what took me so long!
For the cake, I used a recipe that I saw featured in Bon Appétit a few years ago.  I followed the recipe pretty closely, but I did add in some espresso powder (as I often do when I make chocolate cake).  I also decided to make four layers instead of three… After all, four layers is much more fabulous than three.  It worked out beautifully! To frost the cake, I whipped up a white chocolate butter cream spiked with a good dose of Bailey's Irish cream. The combination was perfect.
This is definitely a cake that I will be making again and again. The cake layers stayed nice and moist, and had a great, rich chocolatey flavor.  I chose to just stack the layers of cake with frosting between them, leaving the sides of the cake unfrosted.  I thought the balance of cake and frosting was just right… And, I liked the slightly rustic look of the cake.  Enjoy!
Chocolate Stoudt Cake with White Chocolate Bailey's Frosting
Makes one 9-inch cake, serves 12 – 14
(Cake recipe slightly adapted from Bon Appétit)
For the cake:
2 cups stoudt (I used Guinness)
2 cups (4 sticks) unsalted butter
1 1/2 cups dark cocoa
4 cups all purpose flour
4 cups granulated sugar
1 tablespoon baking soda
2 teaspoons instant espresso powder
1 1/2 teaspoons salt
4 eggs
1 1/3 cups sour cream
For the frosting:
1 cup (2 sticks) unsalted butter, softened
12 ounces white chocolate, melted and slightly cooled
1/4 cup tablespoons Bailey's Irish cream
3 – 3 1/2 cups powdered sugar
Preheat the oven to 350°F.  Lightly grease and flour 4 8-inch cake pans.
To prepare the cake, combine the stoudt and the butter in a saucepan over medium heat.  Bring to a simmer and stir to make sure all of the butter is melted.  Remove from the heat and whisk in the cocoa powder. Cool slightly.
Meanwhile, in a separate bowl, whisk together the flour, sugar, baking soda, espresso powder, and salt.
In a large mixing bowl, combine the eggs and sour cream. Whisk vigorously until the mixture is smooth.  Add in the cooled cocoa mixture and whisk to combine. Add the dry ingredients and fold to combine.
Transfer the batter to the 4 prepared cake pans, dividing evenly among the pans.  Bake for about 30 – 35 minutes, until a toothpick inserted in the center of each cake comes out clean.  Let the cakes cool in the pans for 10 minutes, then invert onto wire racks to cool completely.
To prepare the frosting, place the unsalted butter in the bowl of a stand mixer fitted with the beater blade.  Beat on medium speed until the butter is light and fluffy. Gradually add the melted white chocolate, beating until smooth.  Beat in the Bailey's Irish cream.
Add the powdered sugar, about 1/2 cup at a time, beating after each addition.  The icing should be fluffy and spreadable.
To assemble the cake, carefully slice any dome-shaped tops off of the cake layers so that they will sit flat. Place the first layer on a cake plate or serving plate.  Smooth 1/4 of the icing on top of the cake layer.  Place the next layer on top of the icing, and top with another 1/4 of the icing.  Continue with all four layers of the cake.