I'm sure you all know the lovely Aimee from Simple Bites and Under the High Chair… And, if you don't, you really should!  Today, a few of us are hosting a virtual baby shower to help her celebrate the her new baby girl on the way.
One of the things I enjoy about baby showers is the food… I'm sure that is no surprise to you.  There's always so many fun and cute finger foods to sample.
When I got to thinking about what to make for Aimee's virtual baby shower, I realized that I don't make finger foods nearly enough.  So, today I am changing that! I thought about making some miniature sandwiches, but decided to make some wraps instead.  They're easy to eat while you're socializing with friends and family, and they're tasty, too!
For my wraps, I decided to go with a healthy whole grain wrap packed with lots of veggies… That leaves plenty of room to snack on the adorable cupcakes and other sweets that are inevitable at a baby shower.  Plus, I think it's always a good idea to have some healthy and meatless options at a shower to cater to any special diets of the shower guests.
Of course, these wraps are very adaptable… You can substitute the veggies you like best (and you could even add some grilled chicken or turkey, as well).  I picked a few of my favorites that remind me of a California veggie wrap that I used to order at a sandwich shop near my office.  The original sandwich shop version was loaded with ranch dressing, as well, but I opted to leave that out. It would be fabulous as a dipping sauce on the side, though, if you feel so inclined!
After you sample my California veggie wraps, be sure to check out all of the other great party food for Aimee's virtual baby shower!
And, be sure to stop by and wish Aimee all the best!
California Veggie Wraps
Makes 8 half-wraps
4 large whole wheat tortillas
4 tablespoons cream cheese
(or lowfat neufchâtel cheese)
2 cups baby lettuce
1 cup shredded carrots
1 cup sprouts
(I used a mix of clover and radish sprouts)
1 avocado, sliced
1 medium red bell pepper, sliced
1/2 cup colby jack cheese, shredded
Arrange the whole wheat tortillas on a clean surface.  Spread a tablespoon of cream cheese on each tortilla.  Top each tortilla with 1/2 cup of lettuce, 1/4 cup of shredded carrots, 1/4 cup of sprouts, 1/4 of the avocado slices, and 1/4 of the bell pepper slices. Sprinkle each tortilla with 2 tablespoons of shredded cheese.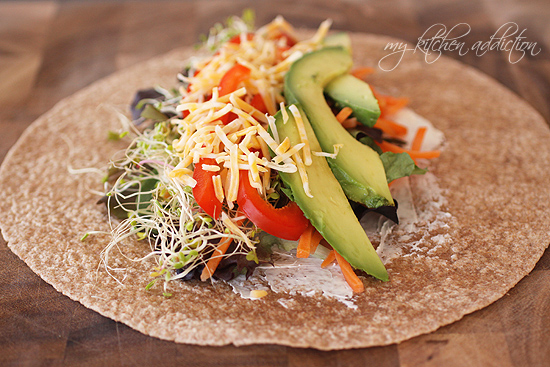 Carefully roll up each wrap, tucking in the ends (as best as you can).  Secure each half with a toothpick, and then slice in half on a diagonal.