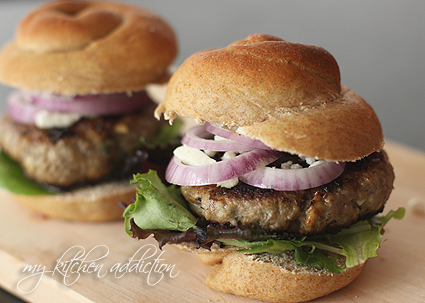 Before Miss Madison was born, I had an idea in my head of what life would be like post-baby… She would be napping a lot, so I'd have no problem preparing three meals a day and keeping the house clean.  I would have no need for battery-powered baby toys to keep her occupied, since I'd be playing with her whenever she's awake.  And, of course, we'd all be nicely dressed each day and have no problem getting out the door for appointments and other fun family activities.
Those of you who have kids are probably laughing at me right now.
It turns out I underestimated how much of my time and attention would be necessary to keep our little bundle of joy, well, joyful.  She's a very sweet little baby, and I am loving all of the time that I get to spend with her.  But, you can forget about the three meals a day, clean house, and nice clothes.
Writing blog posts and developing new recipes hasn't exactly been as easy as I had imagined, either. If I have any intention of preparing something more complicated than a peanut butter sandwich, I have to plan in advance so that I can get some of the prep work done ahead of time while Madison is napping or hanging out with her daddy.
That's what happened with these burgers.  I was at the local farmers' market (during a short nap while daddy was at home) and I decided to try some of the ground lamb from my go-to meat stand.  I'm not a huge fan of lamb, probably because I've had some poorly prepared dishes in the past.  But, I have loved all of the other meats I've gotten from the stand, so I decided to give it a try.  Plus, even though we've been eating simple meals, I've been trying to incorporate new flavors to keep things interesting. In my head, I was already thinking of burgers with feta cheese, garlic, oregano, and cumin.  I just had to work out the schedule.
I planned to make the burgers on Monday… That meant that I needed to make sure that everything was prepped ahead of time. The feta cheese and other key ingredients that I didn't already have on hand were added to the grocery list on Friday.  The lamb was thawed in the refrigerator on Saturday night so that I could prep the burgers on Sunday afternoon.  I knew the hubby would be watching football and wouldn't mind some snuggle time while I was in the kitchen. I also baked the burger rolls on Sunday afternoon.  So, come Monday, all I had to do was actually cook the burgers and prepare a few toppings.
So, to make a long story short, the burgers were well worth all of the effort and planning. They were flavorful and juicy, and both my hubby and I loved them. If you like lamb, you'll love these. And, if you aren't sure that you like lamb, I'd still give them a try. Just be sure to find a local market or farm that has good quality meats.  Good ingredients always make a recipe better! And, even though you may not have to prepare everything the day before, I'd recommend mixing up the burgers in advance to let the flavors mix and mingle.… Continue Reading