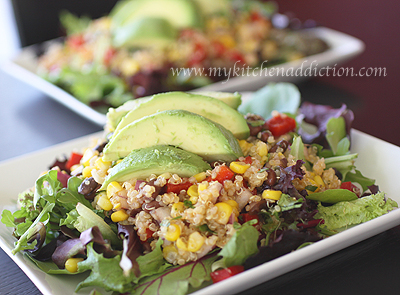 There are just a few more days to submit posts for this month's Kitchen Bootcamp challenge… This month is all about cooking grains and legumes, so the possibilites are endless! If you're interested in participating, be sure to check out all of the details!
So, since I've had grains and legumes on the brain with this month's challenge, I thought I'd share one of my new favorite salads… A quinoa salad!
I only started making quinoa a few months ago, but I have found that I really love it.  I've played around with bulgur wheat in the past, but I never really loved the texture… It was always a bit too coarse for me. The quinoa, though, has a nice light texture even though it is whole grain… So, it's a win – win!
Much like rice, quinoa is pretty versatile and lends itself well to lots of different flavors.  This time around, I decided to use some Southwest flavors – black beans, fresh veggies, and a citrus vinaigrette. This salad is easy to throw together for lunch, and it keeps well in the fridge for a few days. Feel free to swap out the veggies I've used for your favorites!
Southwest Quinoa Salad
(Serves 4 – 6)
1 cup quinoa
2 cups water
15 ounce can of black beans, rinsed and drained
(or about 2 cups cooked black beans)
3 ears of steamed corn, cut off the cob
(or 2 cups frozen corn kernels, thawed)
1 red bell pepper, diced
1/2 red onion, chopped
Handful of fresh cilantro, chopped
1 lime
3 tablespoons extra virgin olive oil
1 tablespoon red wine vinegar
1 teaspoon chili powder
1 tablespoon agave syrup
Kosher salt
Freshly ground black pepper
Mixed greens (optional)
Avocado slices (optional)
Combine the quinoa and water in a saucepan over medium heat.  Bring to a boil. Reduce the heat to low, cover, and simmer for about 15 minutes.  Remove from the heat, and let sit for an additional 5 minutes.
Meanwhile, combine the back beans, corn, bell pepper, onion, and cilantro in a large mixing bowl.
In a small bowl, prepare the dressing by combining the zest and juice from the lime, olive oil, red wine vinegar, chili powder, and agave syrup.  Whisk until smooth.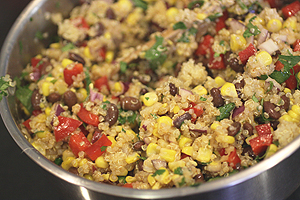 Once the quinoa has cooled slightly, add it to the bean and vegetable mixture.  Add the dressing, and gently toss to combine. Season to taste with salt and pepper. Serve chilled or at room temperature.  I like to serve mine on a bed of greens topped with avocado slices.