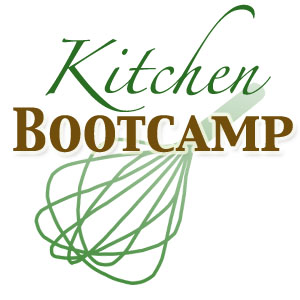 I cannot believe that October is over already. Between waiting for our little baby to arrive and then adjusting to life with a newborn in the house (and, we're still working on that part!), October just breezed right on by. November is here, and it's time for a new Kitchen Bootcamp challenge!
In the last week or so, there is a chill in the air that I hadn't detected before. The days are getting shorter and it is dark by dinner time each night.  Fall is definitely here, and I am reminded that the holidays are right around the corner.  Thanksgiving is just a few short weeks away, and then the Christmas season is in full swing.  I know our holidays are going to be quite different this year, but I'm excited to start creating some new memories.  And, of course, I'm excited to start working on a few new holiday recipes.
So, I thought it would be fun to do another two-month Kitchen Bootcamp challenge focusing on holiday recipes.  It's a bit of a different challenge since I'm not choosing a specific chapter in The New Best Recipe. We're all busy this time of year, and I know that it can be difficult to add another thing to the agenda.  If you're anything like me, you'll be in the kitchen trying a handful of new things for the holidays.  Don't you just love gathering new recipes and working on a menu for Thanksgiving dinner?  Or perhaps you can't wait to find the perfect new cookie recipe to try for a holiday cookie swap? Well, that's what I'd love to hear about for this month's challenge!
If you're looking for some inspiration, I'd definitely recommend checking out some of the recipes in The New Best Recipe.  If you're nervous about making a turkey for Thanksgiving, check out the Poultry chapter (chapter 7) for all the information you need for turkey, gravy, and stuffing.  Need dessert inspiration? You'll likely find the chapters on Cakes (chapter 19) and Pies and Tarts (chapter 20) to be quite helpful. The Vegetables (chapter 4) and Appetizers (chapter 1) chapters may also be particularly helpful if you're looking for side dishes or snacks for hungry guests.  The book is a great resource for all kinds of recipes!
Of course, even if you don't have a copy of The New Best Recipe, you are more than welcome to participate in the challenge. Feel free to use whatever sources you have on hand. The point of the challenge is to try something new, and you can be as creative as you'd like!
Since we'll all be sharing some great holiday recipes that others may want to try, I'd like to post the roundup on Thursday, December 20th.  So, in order to have your blog post included in my roundup, please submit it (including a photo, if you would like a photo included) by Wednesday, December 19th.
Please Note – The links to The New Best Recipe provided in this post are Amazon affiliate links.  If you purchase this cookbook (or another item) after  clicking on my link, I receive a small percentage of the sale price, which helps to keep My Kitchen Addiction up and running. Thanks!