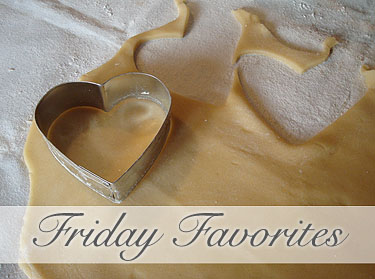 I've been taking a bit of a break from my Friday Favorites lately… My regular Friday Favorites will return later this fall (post-baby!). But, lately I just haven't had the time and energy to get through my RSS reader each week. I suppose being close to 9 months pregnant is a good excuse, but I do really miss reading everyone's posts each week.
This week, however, I had to put together a quick post to say thank you to all of the amazing bloggers who pulled together to throw me a surprise virtual baby shower yesterday. I am so lucky to have so many great friends out there, and I was certainly reminded of that fact as I read through everyone's blog posts!
My day yesterday started pretty normally… Yellowdog decided to throw a tantrum about 30 minutes before the alarm was going to go off because she wanted attention… And breakfast.  Yes, having a yellow lab is good preparation for having a baby in the house.  So, when we couldn't ignore the whining any longer, the hubby and I pulled ourselves out of bed, got the doggy her breakfast, and then took her for her morning walk. I had left my phone on the dining room table when we left for our walk, so I picked it up to double check to make sure I didn't have any missed calls or text messages when I got home. That's when I saw all of the tweets.
I scrolled through all of the notifications on my phone and finally realized what was going on… There was a virtual baby shower… For me! I was floored. I wasn't expecting it at all, and I couldn't believe how many people had taken the time to write a blog post to celebrate the little baby that will be here soon. I started to tear up a bit, and immediately ran (ok, waddled…) to turn on my computer so that I could read through everything on a regular-sized screen.
As I went through all of the posts, more and more tears came… I was blown away by all of the sweet words, well wishes, and fabulous recipes. I have always loved the way the food blogging community is so tightly knit, and, much to my surprise, I was suddenly the one on the receiving end of all of the love. I spent the morning reading everyone's posts and trying to find the words to appropriately describe how I felt.  I never quite found the words, and I still haven't.
The best I can do is to extend my heartfelt thanks for everyone's love and support. I never expected that my little food blog would lead to all of this, and I am blessed to have so many great friends as a result.  So, today I wanted to pass along the links to all of the blog posts that were a part of the virtual shower. I hope that you will help me in extending my thanks… Plus, there are a lot of great recipes that you won't want to miss!
Bluebonnets & Brownies | Raspberry Lemon Fruit Dip
Sugarcrafter | Sweet Potato Cake with Honey Buttercream
My Baking Addiction | Mini Pumpkin Pies
Simple Bites | English Eccles Cakes
Stetted | Roasted Red Pepper and Caramelized Onion Dip
Food for my Family | Homemade Pear Italian Sodas with Cardamom Cream
eat. live. travel. write. | Goat Cheese and Tomato Tartlettes
Gimme Some Oven | Creamy Caramel Apple Dippers
Dessert For Two | Caramel Apple Cookie Cups
Bake at 350 | Soft Sugar Cookies for a Baby Shower
A Thought For Food | Fingerling Potato Salad
TidyMom | Apple Pomegranate Spritzers
i am baker | Advice to a New Mommy
Healthy Green Kitchen | Guacamole with Pistachios
Tracey's Culinary Adventures | Caramelized Onion, Gruyere and Bacon Spread
What Megan's Making | Apple Spice Muffins
Cookin' Canuck | Gorgonzola Cheese Cups with Pear & Hazelnut Salad
Bellalimento | Frozen Berry Shortcake
Shugary Sweets | Caramel Apple Truffles
GoodLife Eats | Coconut Lemon Banana Bread