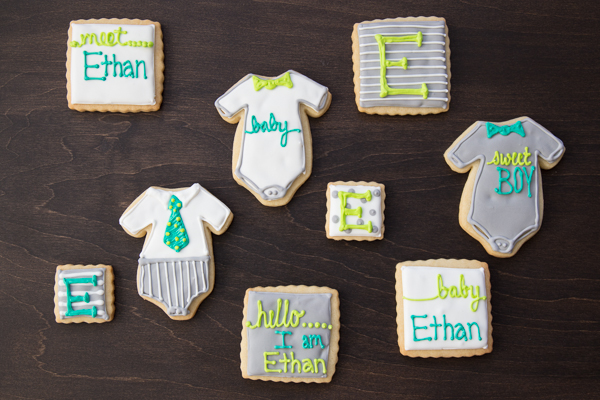 What do you do when your due date is quickly passing and you need to keep yourself busy? You decorate cookies… To take to the hospital, of course!
(That isn't what you'd do?)
Our little guy decided to take his time making his big arrival, so I had some unexpected free time on my hands. Instead of putting my feet up (which, looking back, may have been a smart idea), I decided that I would bake and decorate some cookies to share with family and friends. I thought onesies would be appropriate and I also decorated a few cookies to help us announce his name, which had been a secret.
Oh, I guess you want to meet the little guy, too? Here I thought you were just here for the cookies!
Meet Ethan…
Everyone is doing well and we are adjusting to being a family of four. And, Maddie is settling into her role as big sister.
I'll be back with more food related posts when time allows… Right now, I've got my hands full!