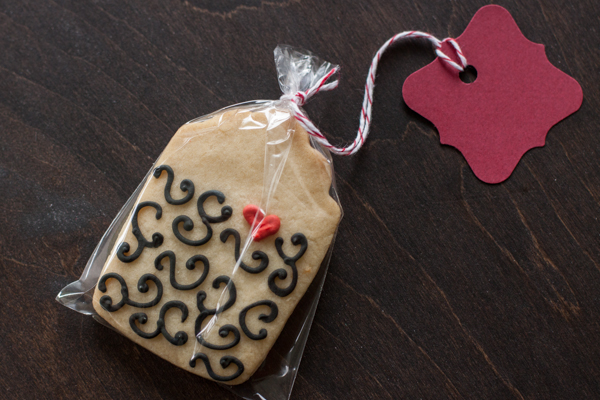 Today I thought I'd share a quick cookie tutorial with you… Sound like fun? I thought so!
I am all about tea these days. Sure, I still drink the occasional cup of coffee (or, in my case, it's more often a latte), but I'm obsessed with tea. My current favorite is a coconut chai tea with just a bit of honey and a splash of milk (when I feel like indulging).
Now I want a cup of tea… Back to the cookies.
I was thrilled to be a part of a tea party bridal shower for one of my best friends who is getting married this fall.  Naturally, I offered to bring cookies to the shower.  I did some tea cup and tea pot cookies (of course… I'll show some of those another day), but my favorites were these little tea bag cookies that we used as favors. We put one cookie in the tea cup at each place setting at the shower. How fun is that?
They're super easy to make, too… Here's what I did!
The Cookies…
Start with a tea bag-shaped cookie… You can buy tea bag cookie cutters, but I used my gift tag cookie cutter.  Don't have one? No problem!  You could simply use a rectangle cookie cutter or even cut rectangles with your pizza cutter.
I've seen some tea bag cookies online previously, but they are often just dipped in icing or melted chocolate. It's a fun idea, but I wanted something a bit more polished.  So, I decorated the bottom ⅔ (-ish) of the cookies to represent the tea in the tea bag. Since I was decorating the cookies for a bridal shower, I added a heart and a scroll pattern.  You could also do flood icing and add some sprinkles or pipe any pattern you like.
Tea Bag Cookie Favors…
Once your cookies are decorated (and have dried overnight… just to be sure!), it's time to turn them into a tea bag.
Here are the supplies you'll need:
Cellophane bags
Tea bag "tags" – I used a fancy square punch, but you could simply cut squares of paper
Hole punch
Baking twine
Wrap each cookie in a cellophane bag. Punch a single hole in each of the tea bag tags.
Assemble the tea bag tags and strings by folding the string in half, putting both ends through the hole and then looping them back through the folded end of the string and pulling it tight.
Use the loose ends of the string to tie the cellophane bag shut. Simple!