This is a Sponsored post written by me on behalf of Organic Choice for SocialSpark. All opinions are 100% mine.
Despite the fact that we saw a few snowflakes again this week, spring is finally here. We had a few gorgeous days in the 70s over the weekend, and I spent just about every moment I could working out in the garden.
With the recent study released on climate change, I've been thinking a lot about what we can do as a family to live a greener lifestyle. We already belong to an organic CSA and buy as much as we can at our local farmer's market. But, I knew we could do more. This year, I am going to focus on expanding our organic garden (food in our backyard with no harmful chemicals!) and freezing and preserving as much as I can so we don't have to buy as much from the grocery store throughout the winter. It's a small change, but if everyone makes a few small changes, they really do add up!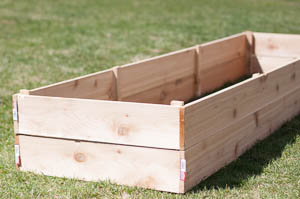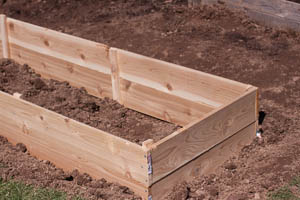 Until last weekend, it has been pretty cold out, and haven't been able to get out into the garden. Once the warmer weather presented itself, though, we got right to work. To expand our (small) garden, I had my hubby build a new raised garden bed. This year, my garden will be planted in three raised beds – two 4 by 4-foot beds and one new 2 by 8-foot bed. (Isn't it lovely? He did a great job… Thanks, hon!)  Plus, I will be planting squash and pumpkins (and maybe another thing or two… like watermelon!) outside of the beds where they have room to spread out. I also have an herb garden with lots of giant pots (partially dug into the ground) that keep the herbs from growing and spreading into each other.
As I mentioned a little while ago, I was also given the chance to try out some of the  Miracle-Gro Organic Choice products this year, which aligns perfectly with my gardening goals. They arrived a few weeks ago (when it was still quite cold), but I've been gradually putting them to use. So far, so good.

I was sent a bag of the organic potting mix (i.e. soil to use in containers or pots), which is perfect for getting my herbs started.  Since we've had a lot of chilly days and there is still potential for frost, I opted to start my herbs in some smaller pots that I can keep inside. I love to cook with herbs, especially when it comes to Italian dishes. So, I planted a trio of herbs – oregano, basil, and Italian parsley –  to keep on my window sill in the kitchen. I also go through a lot of cilantro (the kiddo loves her guacamole!), so I planted a separate little pot of cilantro, as well. In a few more weeks, once the weather is consistently warmer and we won't be having any more frost at night, I'll move my herbs outside to the herb garden for the summer!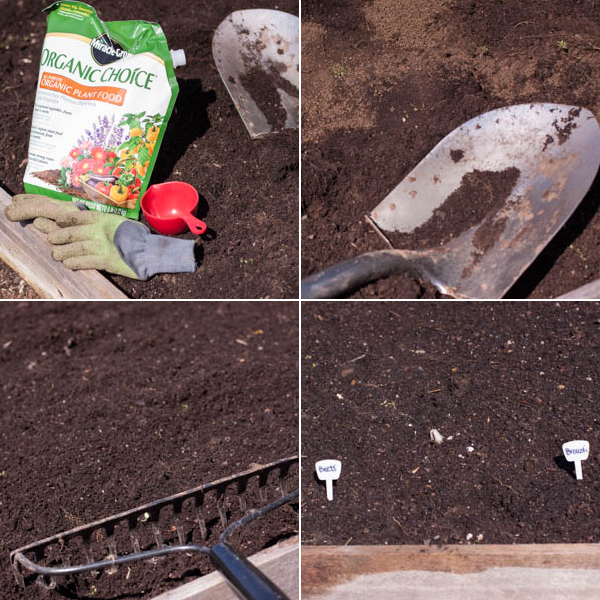 I also got a sample of the organic plant food that can be mixed into the existing soil to help to feed plants. So, when we got our new raised beds set up, I started mixing the food into the top soil that we filled the beds with. It's too early for most planting in this area, but I decided to try a bit of cool weather spring planting this year. I've never done it before, but I'm attempting to grow some broccoli and beets (both from seed) in one of my raised beds. Assuming all goes well, they will be ready to harvest in June and then I will plant some snap peas and green beans in that bed for later in the summer. I'll keep you posted!
Grilled Chicken and Pineapple Skewers with Cilantro
Makes 6-8 skewers, 2-4 servings
Along with gardening, warm weather always gets me in the mood to do some grilling. I decided to put some of my fresh cilantro to good use in these grilled chicken and pineapple skewers. They are quick and easy to put together, and you can let them marinate all afternoon while you are outside working. Then, dinner is just a few minutes away!
I served my skewers with some grilled asparagus and rice, but they'd also be great with some naan (you can cook that on the grill, too!) or quinoa, too.
Don't love cilantro? You can mix up the herbs and try some new combinations. Italian parsley would be a good option, and I think that mint would be great with the pineapple. If you have some Thai basil on hand, that would also play nicely in this recipe.
For the marinade:
2 tablespoons extra virgin olive oil

1 tablespoon raw honey

1 teaspoon rice vinegar

1 teaspoon organic soy sauce

1 lime, juice only

3 cloves garlic, minced

2 tablespoons freshly chopped cilantro
To finish the skewers:
6-8 skewers

1 pound chicken thighs, trimmed and cut into bite-sized pieces

2 cups fresh pineapple, cut into bite-sized pieces

Additional fresh cilantro to garnish
If you are using wooden skewers, soak them in water for at least 30 minutes prior to getting started.
In a glass dish large enough to hold your skewers (I find that my 9 by 13-inch baking dish works perfectly), combine all of the marinade ingredients. Whisk to make sure everything is well combined and the bottom of the dish is evenly coated with the marinade.
Assemble the skewers, alternating the chicken pieces with the pineapple pieces. (I find that the skewers hold together well if you start and end with chicken.)  Transfer the assembled skewers to the baking dish with the marinade, and gently roll them around to coat them evenly in marinade. Cover the dish with plastic wrap and refrigerate for at least 1 hour (or as long as overnight).
When you're ready to cook, preheat the grill to medium-high heat. Place the skewers on the grill and cook for about 4-5 minutes on each side. The chicken will release from the grill (i.e. not stick) once it is ready to be turned. Serve immediately topped with fresh cilantro.
Tell me more…
I'd love to hear about your gardening plans for this summer… Are you new to gardening or a seasoned pro? What are your favorite plants to grow? And, what are your favorite garden-to-table recipes?
Looking for some help to get started? Whether you're new to gardening or just looking for a few new tips, I think you'll find the Miracle-Gro Learn And Grow site to be quite helpful. If you've got a relatively small space (like I do), be sure to look at the section on small space gardening. You don't need acres and acres to grow fresh veggies and herbs!
Stay tuned in the coming months for more recipes and a few more updates on my garden!