Pumpkin season is officially here. Can I get an amen?
It has taken me a while to get around to the pumpkin baking this year… Normally I am chomping at the bit, finding reasons to bake pumpkin bread in July.  This year, though, I held off until October. I'm not sure what to attribute my patience to.  I suppose it was a combination of unseasonably warm weather, a busy schedule, and the fact that I was determined to make my own pumpkin puree.
Now that we are well into October, and I have a few pumpkins worth of puree in the house, I have jumped wholeheartedly onto the pumpkin bandwagon. This year, along with some of the usual favorites (pumpkin bread, cupcakes, etc.), I decided to make a naturally sweetened pumpkin treat to snack on during the week.
I found a great recipe for pumpkin oatmeal bars over at The Lean Green Bean that served as my inspiration.  I did tweak the recipe a bit. Since I planned on snacking on the bars (and maybe eating one or two for breakfast), I decided to use natural sugars (I used both coconut palm sugar and maple syrup) in the place of the granulated and brown sugar. I also decided to use coconut oil instead of butter in the recipe, which makes the recipe dairy-free (assuming you use dairy-free chocolate chips).
I was pleased with how the bars turned out. They are just sweet enough to taste like a treat, but they aren't so sweet that you feel like you need to eat them for dessert.  They are more of a cakey bar than a chewy, fudgy kind of bar, but I like them that way.  The oats add a bit of texture and also make the bars a bit more hearty. I think I'll be mixing up another batch soon!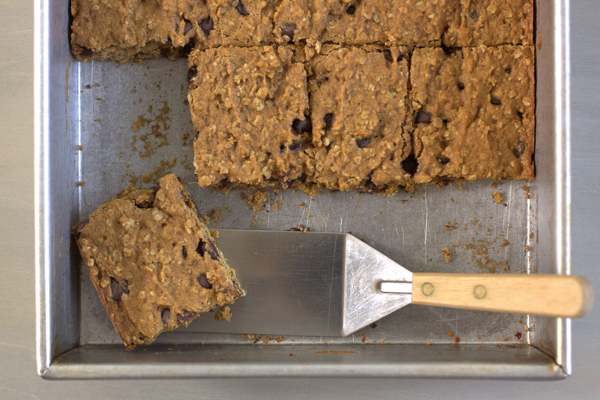 Pumpkin Oatmeal Bars with Chocolate Chips
Makes one 9 by 13-inch pan, about 18 – 24 servings
(Adapted from The Lean Green Bean)
1/4 cup coconut oil, melted and cooled
1/3 cup coconut palm sugar
1/3 cup maple syrup
1 cup pumpkin puree
1 large egg
1 teaspoon pure Mexican vanilla extract
1 1/2 cups white whole wheat flour
1 cup quick oats
1 teaspoon baking soda
1 teaspoon ground cinnamon
1/2 teaspoon ground ginger
1/2 teaspoon sea salt
1/4 teaspoon ground nutmeg
1/4 teaspoon ground cardamom
1 cup semi-sweet chocolate chips
Preheat the oven to 350°F.  Lightly grease a 9 by 13-inch baking pan and set aside.
In a large mixing bowl, whisk together the coconut oil, coconut palm sugar, and maple syrup. The mixture should be smooth and thicken just a bit as you mix. Add in the pumpkin puree, egg, and vanilla and mix until smooth.
In a separate bowl, whisk together the flour, oats, baking soda, spices, and salt.  Add the dry ingredients to the wet ingredients and gently stir until the dry ingredients are just incorporated.  Stir in the chocolate chips.
Spread the batter in the prepared baking pan. Bake for about 25 minutes.  Allow the bars to cool before cutting into squares.