I'm sure no one needs to tell you that parenting is tough. No matter how prepared I thought that I was, I'm not sure that I realized how much of a challenge it would be at times.
For me, the biggest challenge comes at mealtime.  I expected the sleepless nights and the tantrums.  I was ready for the messy diapers and chasing the speedy toddler all over the house. But, I had no idea that feeding Miss Maddie would be such a challenge for me.
Of course, she's not doing anything wrong… She's a baby (I'm holding on to her being a "baby" as long as I can, though I suppose she's becoming more of a toddler.).  Babies look at bright purple beet and blueberry puree and think, "Wow, that looks like it would be great for splatter-painting the wall." Of course, I thought that maybe if I just reasoned with her, she would pick up the spoon and nicely put the food in her mouth. Certainly that's not too much to ask, right?
When I started out on this whole feeding adventure, I was set on Baby Led Weaning.  I had heard so many success stories and was convinced it would be no problem.  Maddie would be snacking on quinoa, kale, and gorgonzola in no time!
I will skip over the details, but that's not exactly how things worked out, especially early on.  She wasn't really interested in eating much food, and there were many nights where I resorted to just feeding her baby food puree directly from those convenient little pouches that I bought at Target.  She finally became interested in actually picking up food when I gave her some cereal puffs (around 10 months or so), and we've been gradually working on finding new foods for her to eat ever since.
We have now gotten to the point where she eats most of what we eat, within reason.  But, we have our days.  Just last night, she threw all of her dinner on the floor. A few months ago, I would have been pulling my hair out, but I am learning to take it all in stride.  Sure, last night she wanted nothing to do with the fresh mozzarella that I carefully cut into little cubes for her.  But, I'm sure she'll happily nibble on it again soon.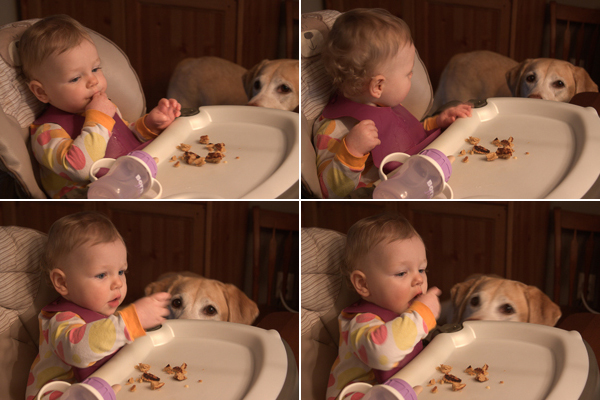 You may be wondering if this is going anywhere… And, it is.
Feeding Maddie has really changed the way I cook… And, there have been times where it has really been a challenge for me to come up with foods that I felt good about feeding her.  So, I've decided to start sharing some of my baby-friendly recipes in a new series called Munching with Maddie.  There are a few that are specifically geared toward kids, but many of them are great for the whole family.  My hope is that they may offer some help to another mother who is losing her mind trying to figure out what in the world to feed to her sweet child who wants nothing more than to redecorate the dining room with dinner.
Of course, these recipes are just suggestions… I firmly believe that every child is different, and what works for every child is also different.  Please keep in mind any allergies or sensitivities that your child may have and introduce new foods gradually!
I'll get things started with this recipe for a multigrain pancake mix.  Maddie loves pancakes… It's one of the few foods that she eats reliably. So, there have been weeks where I've made pancakes for breakfast 4 or 5 days in a row. While I enjoy eating pancakes on a regular basis, I'm not as much of a fan of measuring out all of the ingredients every morning.  That's where this pancake mix comes in handy!
I've posted a similar recipe for Multigrain Pancake Mix before, but I've tweaked the recipe a bit since I started making it for Maddie. I've subbed coconut palm sugar for the brown sugar, since it is higher in nutrients and a more natural sweetener.  I've also used a bit more oats (her favorite) and started using plain yogurt when I mix up the pancakes for some added protein and calcium. Plus, I have found that yogurt helps to make the pancakes extra fluffy.
Kid-Friendly Multigrain Pancake Mix
Makes enough for 4 batches of pancakes
2 cups white whole wheat flour
2 cups oats, ground in the food processor
1 cup pumpernickel (whole rye) flour
1/2 cup ground flaxseed
1/2 cup wheat germ
1/2 cup coconut palm sugar
1/4 cup baking powder
2 teaspoons sea salt
Combine all ingredients in a large mixing bowl and whisk until well combined.  Store in an airtight container for a few weeks.
Multigrain Pancakes
Makes about 8 pancakes
1/2 cup whole milk
1/2 cup plain yogurt
2 tablespoons extra virgin olive oil
1 large egg
1 teaspoon vanilla extract (optional)
1 1/2 cups multigrain pancake mix
Butter or oil for cooking
In a mixing bowl, whisk together milk, yogurt, olive oil, egg, and vanilla.  Add the pancake mix and gently stir with a spatula until the dry ingredients are incorporated. Don't over mix. It's OK if the batter is a bit lumpy.
Let the batter rest while you preheat a griddle or fry pan to medium heat.  Add a little bit of butter or oil to the pan and pour or scoop the batter into the pan.  Cook for a few minutes on each side, flipping when the pancakes puff up a bit with air bubbles appearing in the batter.