I've been making a lot more cookie bars lately… And brownies. It turns out that baking cookies with an infant isn't quite as easy as I once thought.
Previously I thought that cookies were a given in the kitchen… How hard is it to bake cookies? You just slap some dough on a sheet pan and bake it in the oven. Simple, right? Well…
Sure, compared to homemade croissants, baking cookies is relatively simple.  But, it's also rather time consuming.  Unless you have a nice big convection oven that can bake a few sheet pans of cookies at the same time (I don't), you're tied to the kitchen for at least 30 minutes… There's the scooping of the cookies, then the baking of the cookies.  And, don't forget taking the hot cookie sheets out of the oven and giving the cookies time to cool. None of these things can be done one handed while holding a baby. It's dangerous.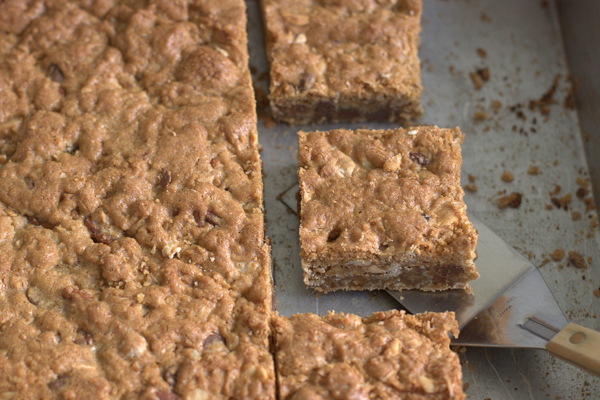 So, my 9 by 13-inch baking pans have been working overtime lately.  I've made more pans of brownies than I'd care to mention, and I've also discovered that many cookie recipes can be quickly turned into cookie bars by simply spreading the cookie dough in a pan and baking. Success!
These trail mix cookie bars were the result of a salty sweet craving one day in mid-April.  (Yes, it has taken me close to two months to actually get around to writing a blog post.) They combine all of the things I love about trail mix – pretzels, chocolate, nuts, and even some yogurt covered raisins – into a hearty (and whole grain!) chewy cookie bar… While I certainly won't try to tell you that they're healthy, they do make a great snack.  They'd be great for a trip to the beach, hike in the woods, or another summertime activity. Of course, they're also pretty good at home, too. No travel required.
Trail Mix Cookie Bars
Makes 24 cookie bars
1 cup (2 sticks) unsalted butter, softened
1 cup lightly packed dark brown sugar
1 cup granulated sugar
2 eggs
1 teaspoon pure vanilla extract
2 cups whole wheat pastry flour
1 teaspoon fine sea salt
1/2 teaspoon baking powder
1 1/2 cups rolled oats
1 cup semi-sweet chocolate chips
1/2 cup broken pretzel pieces
1/2 cup chopped nuts
1/2 cup yogurt covered raisins
Preheat the oven to 350°F.  Lightly grease a 9 by 13-inch baking pan and set aside.
Beat together the butter, brown sugar, and granulated sugar on medium speed until light and fluffy.  Add the eggs, one at a time, beating well after each addition. Add the vanilla extract and beat for an additional 30 seconds.
In a separate mixing bowl, whisk together the pastry flour, salt, and baking powder.  Add the dry ingredients to the creamed mixture, mixing on the lowest speed until just combined.  By hand, stir in the rolled oats, chocolate chips, pretzel pieces, nuts, and raisins.
Spread the cookie dough evenly into the prepared baking pan. Bake for 40 – 45 minutes, until the edges pull away from the pan and the middle is just set. Cool before cutting into squares.