Last week, I came across Shauna's blog post asking everyone to share what family dinner is like our homes to celebrate her latest cookbook (yup, that's an Amazon affiliate link) that is hitting shelves today. I had great plans of photographing a great family dinner, talking about the importance of everyone sitting down to eat together, and painting a lovely portrait of dinner at my house on an "ordinary" night.
I would photograph our dinner on Saturday evening. I was planning to make beef tenderloin with sauteed kale raab (like broccoli raab, from our CSA) and roasted gold potatoes. That's the kind of meal that you would expect a food blogger to serve to her family. Of course, I would note the fact that the veggies all came from our CSA and the grass-fed beef came from a local farm.
All that would have been true… But, the dinner never happened. Life happened.
The weekend ended up being busier than I had anticipated for a variety of reasons. My food-blog-appropriate dinner turned into a quick homemade pizza thrown together with some pizza dough left over from Friday night. There weren't fancy toppings. It was topped with cheese and sprinkled liberally with some pizza seasoning. I confess that I even used some jarred marinara sauce because I didn't have the energy to cook. And, I'm OK with that.
I considered pulling the plug on the blog post altogether. What would everyone think? Jarred sauce? On a food blog? Shouldn't I be cooking from scratch? And, writing about pizza for a post related to a gluten-free cookbook?
It certainly wasn't the kind of meal that you'd see beautifully photographed on one of the many food photography sites. There were no perfectly pressed linens with beautiful matching plates and perfectly arranged props. I pushed the clutter out of the way to make enough room on the dining room table for the pizza peel. We grabbed some plates and sat down for dinner.  Madison has started dining with us in the last few weeks, so I also grabbed a squeeze pack of baby food, her dinner for the evening – a lovely blend of broccoli, peas, and pears. (Yes, that's right, I hadn't even made my own baby food… That's another story for another day.)
I really considered not sharing my family dinner experience… Perhaps I was a bit ashamed of the fact that life had gotten the best of me and I was just throwing dinner together at the last minute. I think part of me also felt like I have a bit of an image to keep up (though, lately I haven't been doing that very well, even if I was trying). It just felt like one more link in a long chain of my failures for the day.
I was ready to abandon ship. Then, I remembered this line from the "About" page of my site.
My Kitchen Addiction is an honest glimpse into my kitchen and my life.
It grounded me.
Then a light bulb went off and the gears in my mind started spinning.  Perhaps the reason that I have had so little inspiration to write lately is that I am trying to maintain an image that isn't mine.
I have never been the blogger with a lovely table-scape in my photos. Those photographs are lovely, and I love looking at them. But, they're not (and never have been) me. I photograph the food that we're eating, and I like for the food to speak for itself.
When it comes to the food that I am cooking, I do try to cook from scratch as much as possible.  I try to use local and organic ingredients. But, sometimes we all need a jar of pasta sauce from Wegmans. If you stop reading my blog because I admitted to using a jarred sauce, I think I'm OK with that.
It all left me with one question running through my mind… Why do I feel as though my photos, my recipes, and, in the end, my life need to be perfect in order to show up here? I'm certainly not perfect, and I don't know who I am trying to impress.
So, here I am writing about our family dinner on Saturday evening. We had homemade pizza… Well, I guess it was mostly homemade pizza. And, it wasn't gluten-free, but I don't think Shauna will mind. (Shauna, I hope you don't mind!)
Looking back on it all, I think pizza was just what we needed.
The evening started out poorly… Madison was exhausted and refusing to nap.  She finally fell asleep just as the pizza was coming out of the oven. So, we sat down to eat dinner without her, despite the fact that I try to eat as a family as much as possible, even though she is still only 6 months old. I was tired and frustrated after dealing with the nap time screaming and trying to get dinner together at the last second. And, my husband is a saint for putting up with it all.
So, we started dinner out without a lot of talking. But, as we began to eat and relax, we finally started chatting. As it so often does around the dinner table, the day started to melt away. We were able to enjoy our pizza (which, while it may not have been the gourmet, locally sourced meal that I had in mind, was delicious) and forget about the worries of the day. As we were starting to finish up with our dinner, we heard little Maddie waking up from her (rather short) nap. She then joined us at the table and enjoyed her pear, broccoli, and pea puree (which I usually call her "green goop").  We watched her smear food all over her face and play with her sippy cup.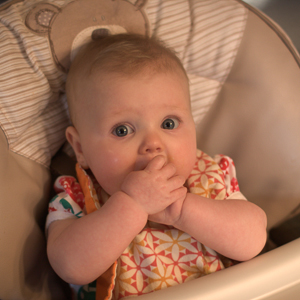 It wasn't the perfect evening I had originally envisioned in my mind… And, I certainly won't be submitting the photos to any food photo sites.  But, in the end, it was the perfect end to a busy day.
I did end up making the beef tenderloin, roasted potatoes, and sauteed kale raab on Sunday night. I could have photographed it and written about that dinner. Perhaps it would have been a more impressive blog post. But, this time, writing about pizza just felt right.
As I mentioned before, Shauna and Dan's new book Gluten-Free Girl Every Day (yes, another Amazon affiliate link, in case you were curious) comes out today… And, they were the inspiration for this blog post.
I realize that this is not a strictly gluten-free blog. But, that doesn't stop me from cooking (and even baking) gluten-free from time to time. I do not personally have an issue with gluten and I'm not trying to be trendy.  For me, it's about trying new things. There is a whole world of food out there, and I like to experiment with it all. There are a lot of really fabulous things that are naturally gluten-free!
Whether you need to follow a gluten-free diet for health reasons, you enjoy experimenting with food, or you are just looking for a great cookbook filled with lots of heart and soul, I think this is one for you. As I am writing this, my copy of Gluten-Free Girl Every Day (you guessed it – Amazon affiliate link!) is still on its way to my house. I pre-ordered it a while ago because I am confident that it is one that will have a permanent home on my kitchen bookshelf, just as soon as I finish reading it from cover to cover. (I have read their last cookbook from cover to cover, twice.)
Please Note – The links to Gluten-Free Girl Every Day provided in this post are Amazon affiliate links.  If you purchase this cookbook (or another item) after  clicking on my link, I receive a small percentage of the sale price, which helps to keep My Kitchen Addiction up and running. Thanks!