This is a sponsored post written by me on behalf of Red Star Yeast.  As always, all opinions expressed are my own.
Lately, I find myself drawn to bread recipes that require no kneading.  It's not that I'm opposed to kneading, not at all. But, it always seems to work out that I am elbow deep in bread flour kneading dough for bread when naptime comes to an abrupt end. Then I am forced with the usual dilemma… Do I let the baby cry in her crib while I finish what I am doing? Or, do I drop what I'm doing and go rescue her, perhaps at the risk of never getting a chance to complete my task?
Let's just say that there are a lot of things on my to-do list that are partially finished these days, and who knows when I'll get back to them.  So, a recipe that I can whip up very quickly is a must. Fortunately, there's a whole bunch of batterway bread recipes (i.e. no knead) on the Red Star Yeast site. It's like they knew I would have a sweet little baby who doesn't really like to nap.
Of course, I realize that they didn't develop the recipes just for me.  That's why I decided to share one of them with you. I know there are plenty of others out there who may not have the energy to knead bread… And, then there are also plenty of people who find the task of making bread from scratch to be quite daunting.  Regardless of which category you may fall into, this is a bread recipe you must try!
While I was thrilled that I found a no-knead sandwich bread recipe, I admit that I was a bit skeptical about the results. I am happy to announce, however, that the bread turned out beautifully.  It's a bit more chewy and rustic than your typical kneaded sandwich bread. I don't necessarily consider that a bad thing, though.  I liked the texture of the bread, and my hubby and I had no trouble going through two loaves of bread this past week. We enjoyed it in sandwiches for lunch, toast for breakfast, and I even used some of the leftovers for French toast over the weekend. They were all tasty, and I was thrilled to have some homemade bread in the house!
In the next few weeks, I plan to play around with the recipe to make a version of the bread with some whole wheat flour.  I'll keep you posted!
America's Favorite Batter Bread
Makes 2 loaves of bread
(Recipe from Red Star Yeast; Used with permission)
6 1/2 cups of bread flour, divided
3 tablespoons granulated sugar
1 tablespoon salt
4 1/2 teaspoons (2 packets) active dry yeast
3 cups very warm water (120°-130°F)
2 tablespoons vegetable oil or shortening
(Jen's Note – I used extra virgin olive oil)
Butter, as desired
(Jen's Note – I left the butter out for a chewy crust)
In a large mixing bowl (the bowl for your stand mixer, if you will be using one), combine 3 1/2 cups of bread flour with the sugar, salt and yeast. Whisk to combine.
Add the water and oil (or shortening) and mix on a low speed until the dry ingredients are evenly moistened. Increase the mixer speed to medium and beat for 3 minutes, until the batter is very smooth.
Gradually stir in the remaining flour, by hand, to make a stiff batter.  Cover and let the batter rise in a warm place until it has doubled in volume, approximately 30 minutes.
Jen's Note – My kitchen wasn't real warm when I made this bread, and it took closer to 45 minutes to rise.
Stir down the batter with a spoon, and divide it evenly between 2 greased bread pans (8 x 5-inch).  Cover and let rise in a warm place until the batter reaches the tops of the pans, approximately 20-30 minutes.
While the bread finishes rising in the pans, preheat the oven to 375°F.  Bake the loaves for 35 – 40 minutes, until the tops are golden brown.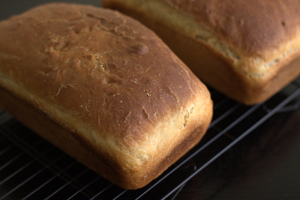 Remove the bread from the pans immediately and place on a wire rack.  Brush with butter (if desired), and cool completely before slicing.
My Kitchen Addiction Disclosure – This post was sponsored by Red Star Yeast.  Though I have been compensated to write this post, all opinions expressed are my own.