This is a sponsored post written by me on behalf of Red Star Yeast.  As always, all opnions expressed are my own.
I always enjoy getting emails from readers who have tried the recipes I feature here or who have questions about how to prepare a paritcular dish.  I started sharing my recipes here over four years ago because I wanted to encourage my friends and family to cook and bake. I wanted to share my love of food with them.  And, I'm so thrilled that my blog has grown a bit beyond my close friends and family. It's a blessing to see how my recipes are enjoyed by readers across the world.
When it comes to baking, one of the questions I am asked most frequently is if my recipes can be prepared without a stand mixer.  It's a great question, and it's something that I have started to consider more frequently when I share recipes. I do have a stand mixer in my kitchen, and I love it.  But, you don't need one.  Sure, it can be helpful at times, but there are plenty of things that you can bake without one.
I have always wanted to encourage readers to bake from scratch at home.  It's very satisfying to transform a few simple ingredients into something beautiful like a freshly baked loaf of bread.  So, the last thing I want to do is make someone feel discouraged by thinking that they need fancy equipment!
Today I am featuring a fabulous recipe for Easter Bread from Red Star Yeast. It's a slightly sweet and light coffee bread with a creamy glaze.  It's especially perfect for Easter (which is right around the corner!), but I think it's delicious any time of the year. It's the kind of bread that is perfect for sitting down with an old friend and enjoying a cup of tea or coffee. It's also a bread that can be made with very little kitchen equipment.
You'll find that the recipe on the Red Star website recommends using a mixer (and, if you have a mixer and want to use it, be sure to check out their original recipe).  However, I decided to go back to basics, and I rewrote the recipe to just use the basics – a large mixing bowl, wooden spoon, and cookie sheet. I think you'll find that it's easier than you might expect.  I've included step-by-step photos to guide you along the way, too!
Trinity Easter Bread
Makes one large coffee bread
(Recipe from Red Star Yeast; Used with permission)
For the bread:
4 to 4 1/2 cups bread flour
1/3 cup sugar
4 1/2 teaspoons (2 packets) active dry yeast
1/2 teaspoon salt
1/2 cup water
1/3 cup milk
1/3 cup (5 1/3 tablespoons) unsalted butter
2 eggs
1 – 10 ounce jar maraschino cherries, drained and halved
2 tablespoons lemon zest
For the glaze:
1 cup powdered sugar
1 tablespoon unsalted butter, softened
1 – 2 tablespoons warm milk
In large mixing bowl, combine 1 1/2 cups of bread flour, sugar, yeast, and salt.  Stir to combine.  Meanwhile, combine the water, milk, and butter in a microwave safe bowl (or measuring cup) and heat in the microwave for about 60-90 seconds, until the mixture reaches 120-130°F.  (Note, the butter
does not need to melt.) Add the liquid ingredients to the flour mixture. Add eggs.
Stir together with a woden spoon until the dry ingredients are all moistened.  Then, beat vigorously with a wooden spoon until the mixture is smooth, 3 – 5 minutes.  Stir in the lemon rind and chopped cherries. Gradually add the remaining flour, stirring and adding just enough to form a firm dough. Knead the dough on a floured surface (or in the mixing bowl) until it is smooth and elastic, adding just enough flour to keep the dough from sticking to your hands.
Shape the dough into a ball and transfer to a lightly oiled bowl, turning to grease the top.  Cover with plastic wrap and let the dough rise until it tests ripe and the imprint of two fingers remains.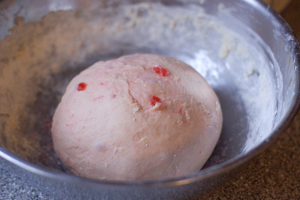 Punch down the dough and divide into 3 parts. Shape each third into a smooth ball. On greased large cookie sheet (or a sheet lined with parchment or a silicone liner), place 3 balls together in shape of a cloverleaf. Cover and let rise in warm place until indentation remains after lightly touching.
Bake at 375°F for 30 to 35 minutes, covering loosely with foil for the last 5 to 10 minutes of baking. Remove from cookie sheet and cool on a wire rack.
Meanwhile, prepare the glaze by whisking together the powdered sugar, butter, and enough milk to reach the desired consistency.
Once the bread has cooled, pour glaze over the bread.  If desired, garnish with chopped nuts and cherries.
My Kitchen Addiction Disclosure – This post was sponsored by Red Star Yeast.  Though I have been compensated to write this post, all opinions expressed are my own.