Perhaps this blog post should be titled "The Best Sauce Ever"…  However, that's a fairly subjective claim to make.  If you ask my husband, though, he'll tell you this is not only the best sauce ever, but that it is the best thing I have ever made.
So, while this rich meat sauce is certainly not the most photogenic food in the world (especially since I was taking photos well after the sun had gone down), I just had to share the recipe with you! I've been meaning to share this one for a while, actually. I first discovered this sauce last January.  My hubby bought me Anne Burrell's book Cook Like a Rockstar for Christmas, and her sausage ragù was one of the first things I made.  We were having my family over for a birthday dinner, and I planned to make lasagna. I wanted a rich, meaty sauce to take the lasagna up a notch, and the recipe was just what I was looking for.
I've made the sauce a few times since then (not as many as I'd like, though, since I couldn't eat tomatoes during most of my pregnancy), and it continues to be a favorite at my house. I've changed the recipe a bit to make a slightly bigger batch since the sauce is always such a big hit.  It takes quite a while (4+ hours!), so it's one of those recipes where it pays to make a big batch.
I'm pretty sure you won't need much help figuring out how to use the sauce.  It's perfect on its own, so all you really need to do is add some cooked pasta.  Of course, I frequently use it in lasagna.  The sauce is so rich that you don't really need much else… Just layer the noodles with ricotta cheese, a blend of mozzarella and provolone, and sauce. I've also made pizza with leftover sauce, too. It was some of the best pizza I've ever had.  Since the recipe makes a big batch, you'll likely have plenty of leftovers.  I highly recommend freezing individual portions of the sauce (I usually freeze it in 2 cup containers) so that you have it on hand.  I'm not big on leftovers, but this is one of the few things that I get excited to pull out of the freezer and heat up for dinner!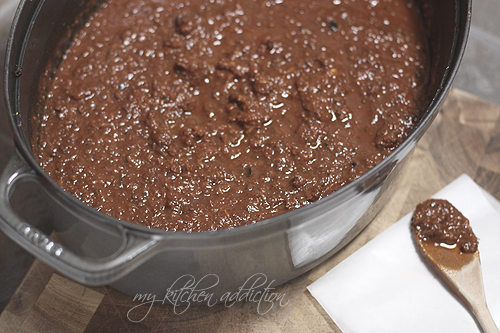 Sausage Ragù
Makes about 10 – 12 cups
(Adapted from Cook Like a Rockstar)
4 ribs celery, cut into large chunks
2 large onions, cut in a large dice
1 large bulb fennel, cored and cut into a large dice
6 cloves garlic
3 – 4 tablespoons extra virgin olive oil
18 ounce can of tomato paste
1 bottle (750 mL) bottle of red wine
(Pick one that you like to drink… I used a merlot)
2 1/2 pounds sweet Italian sausage, casings removed
1 teaspoon dried basil
1 teaspoon dried thyme
1/2 teaspoon dried oregano
Water
Kosher salt
Freshly ground black pepper
Begin by pulsing the vegetables (celery, onion, fennel, and garlic) in the food processor until finely chopped. Depending on the size of your food processor, you may need to work in batches.
Heat the olive oil over medium-high heat in a large dutch oven or heavy pot. Add the vegetable mixture, and cook until the vegetables are tender and start to brown. Stir every few minutes to scrape the browned bits from the bottom of the pot and let new brown bits develop again. Continue to cook until the mixture is well browned, up to 30 minutes.
Add the tomato paste to the pot and stir to mix into the vegetables.  Cook for just a minute or two.  Then, add the bottle of wine and scrape up any remaining bits from the bottom of the pot. Bring the mixture to a simmer and cook until the wine has reduced by about half, about 8 – 10 minutes.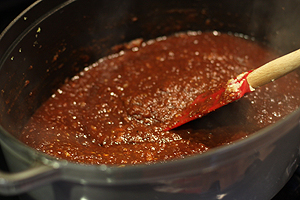 Add the sausage to the pot and use a wooden spoon to break it cooks. Continue to cook until the sausage is completely browned, scraping the pot occasionally.  The sausage will take about 10 minutes to cook.
Once the sausage is cooked, add the herbs to the pot and then add enough water to cover the sausage mixture by about 1/2 inch. Season with salt and pepper.  Stir the sauce, scraping the bottom of the pot once again.  Then, bring the mixture to a boil. Boil for a minute, then reduce to a simmer.
Simmer the sauce for about 3 hours, stirring occasionally. Once the sauce has cooked and thickened up, taste and adjust the seasonings accordingly.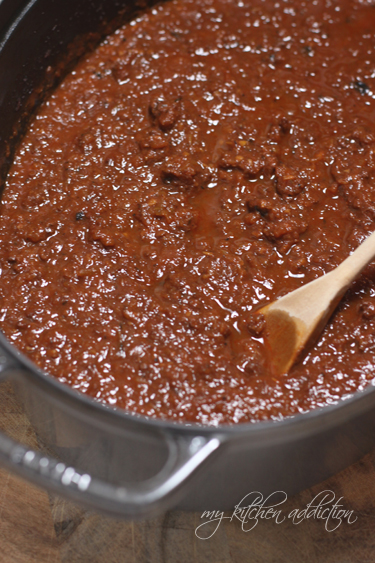 Please Note – The links to Cook Like a Rockstar provided in this post are Amazon affiliate links.  If you purchase this cookbook (or another item) after  clicking on my link, I receive a small percentage of the sale price, which helps to keep My Kitchen Addiction up and running. Thanks!