I am happy to announce that our little one has finally arrived!
I'd love to introduce you to the newest sous chef in my kitchen… Madison Faith was born last Monday morning… She was an even 7 pounds and measured 20 1/4 inches.
Darron and I are both completely smitten with our little girl, and Yellowdog is now a proud big sister.  We've all been enjoying some down time at home getting to know little Madison better.  Yellowdog has been especially great, giving her lots of puppy kisses and keeping a close eye on her when we go for walks together.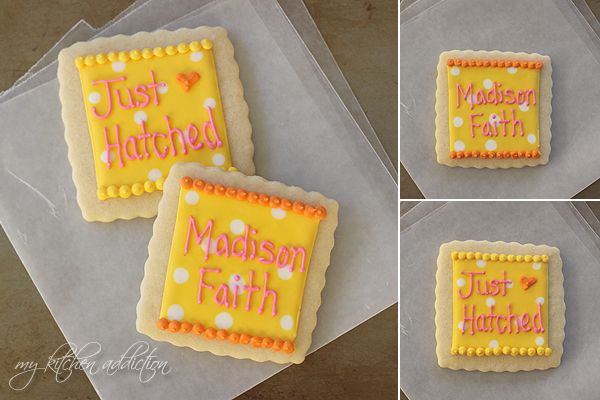 I wanted to make sure I had some treats for the doctors and nurses at the hospital, as well as guests who were stopping by to meet Miss Madison, so naturally, I baked cookies!  Don't worry, I baked them a week or two in advance of our due date and stashed them in the freezer so they'd be ready whenever she arrived.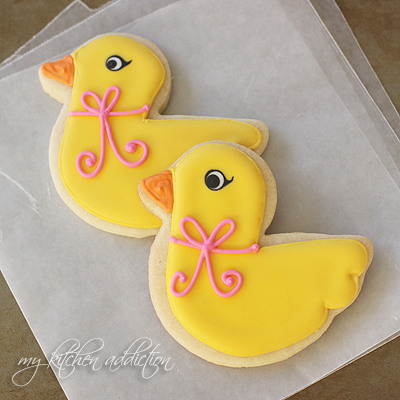 Having a new baby in the house is certainly an adjustment, but it is a welcome change. We are all getting used to each other's new schedules and loving all of the snuggle time with the little one.  Of course, that does mean that I haven't been spending much time in the kitchen!
So, I hope you'll understand that things may slow down here a little bit over the coming weeks.  I do have a few recipes ready to share with you, and I plan to get back into the swing of things gradually. I'll be back soon… And, in the meantime, you can help me celebrate with a cookie!