Today I am going to tell you a secret. I don't always enjoy cooking. Hard to believe, I know… But, it's true! There are plenty of nights where I just don't have a lot of motivation to make something for dinner. When I'm tired, cooking isn't nearly as much fun, and it can become a chore.
At the risk of losing the respect of half of my readers (or more?), I'll tell you another secret… Sometimes I even order takeout. Yes, I have been known to collapse on the couch after a busy day and ask my hubby if he minds picking up cheeseburger subs (a pregnant lady's best friend, I'm just saying) for dinner.
Whether or not you are horrified by my takeout confession, I think we can all agree that a steady diet of greasy cheeseburger subs is not a good thing. I really do try to keep the takeout to a minimum (though, I try not to stress over the occasional cheeseburger sub dinner)… Instead, I've learned to keep the freezer stocked with meals that are just as easy as sending the hubby for takeout.
With the new baby's arrival expected sometime in the next month, I know that my cooking energy is probably going to take a nose dive for a while.  So, I've been working to get the freezer stocked and organized (and let's not mention the other crazy cleaning and organizing sprees… nesting much?) so that we are ready with an arsenal of easy to prepare dinners for the next few months.  I can't promise that we will never order takeout, but I'm hoping that my preparations will help keep us from becoming regulars at the local pizza place.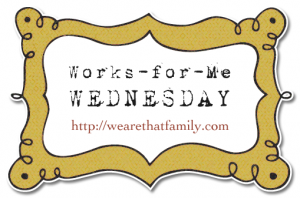 So, today I thought I'd share a few of my favorite freezer friendly meals that are great for the fall.  I've also got a few tips for you about how to label and organize the freezer so that you (or better yet, someone who is preparing dinner for you!) can take full advantage of that stocked freezer and don't spend too much time or energy digging through the dark, chilly depths of the freezer trying to figure out what that square-ish frozen package is (or how long it's been hanging out in there!).
Tips for Organizing the Freezer…
I think we all have lost plenty of perfectly good food to the deep dark depths of the freezer. There have been many times where I pulled something out of the freezer and couldn't identify what it was, or how long it had been hanging out in the freezer.  Nothing sends me running for the takeout menu faster than a freezer burned package of unidentifiable food.  So, I've developed these strategies for keeping things organized…
Keep similar foods together… I try to keep my freezer organized in sections.  There are sections for meat, casseroles, sauces, frozen veggies, and more. If I'm too lazy to get up off of the couch, I can easily tell my hubby that the mac and cheese I want to eat for dinner is on the left hand side of the second shelf from the top.  Handy, right?
Double (or triple!) wrap.  This one's pretty self explanatory. A single layer of plastic wrap probably won't do it.  If you want to keep your food fresh, protect it with a few layers.
Be specific… Sure, you know what to do with your chicken noodle casserole when you put it in the freezer simply labeled "Chicken Noodle Casserole"… But, then when you go to prepare it a few months later, things can be a bit fuzzy.  Label your food with specifics like whether or not to thaw before baking, oven temperature, and baking time.  You'll thank yourself later.
Don't forget the date! Even if you only plan to leave something in the freezer for a few days, put the date on it! Plans can change, and things may wind up living in the freezer for longer than you anticipated.  Food doesn't keep forever in the freezer, and it's nice to know how long something's been in there for.  You might want to avoid that chili that's been buried in the back since 1999.
Don't confuse the freezer and the trash can. Ok, so you made a giant batch of soup, and it was mediocre. It was edible, but you can't face the idea of eating the leftovers. Resist the urge to stash it in the freezer and assume you'll want to eat it later. You probably won't. And, it will just take up space in your freezer. Trust me.
Freezer Friendly Recipes for Fall…
Now that you're armed with all of the tools needed to stock your freezer, here are a few of my favorite freezer friendly recipes for the chilly fall months…
Casseroles like Macaroni and Cheese or my Southwest Chicken Noodle Casserole freeze well. Prepare and bake the casserole in a freezer-friendly dish/tin. Wrap well once the casserole has cooled.  When you're ready to eat the casserole, let it thaw before putting it in the oven to reheat (usually at about 350-375°F).
Soups are an obvious choice for the freezer, especially in the fall. My all time favorite is Chicken Tortilla Soup.  Simply freeze the soup in an airtight tupperware container, then thaw and reheat on the stove (or even in the microwave).  Adding a fresh topping or two (like sour cream or avocado) will make you forget you're eating leftovers!
If you have meaty leftovers when you make Shredded Beef or Sloppy Joes, don't hesitate to freeze them in an airtight container for later. You can thaw and reheat in no time, and you just have to add sandwich rolls or tortillas and a few fresh toppings.
You can freeze more than just dinner. I also like to keep unbaked cookies (especially Chocolate Chip and Oatmeal Raisin) in the freezer for when we are craving freshly baked cookies. Scoop out the cookies ahead of time and freeze them on a sheet tray. Then, transfer them to a freezer bag (with baking instructions) when frozen. When you're ready to bake, simply preheat the oven and place the frozen cookies on the baking sheet!
Not all treats have to be unbaked, either! I freeze muffins, cinnamon rolls, and more that are already baked! I have some Zucchini Apple Muffins and Whole Wheat Cinnamon Rolls in my freezer right now.  Just pop them in a freezer bag (or wrap the pan of rolls) and thaw when you're ready to enjoy them!